Cesky Krumlov is one of the most romantic town of Europe. It's just like a fantasy land, full of magical beauty. With our Cesky Krumlov Day Trip we will take you to the most picturesque town of Czech Republic.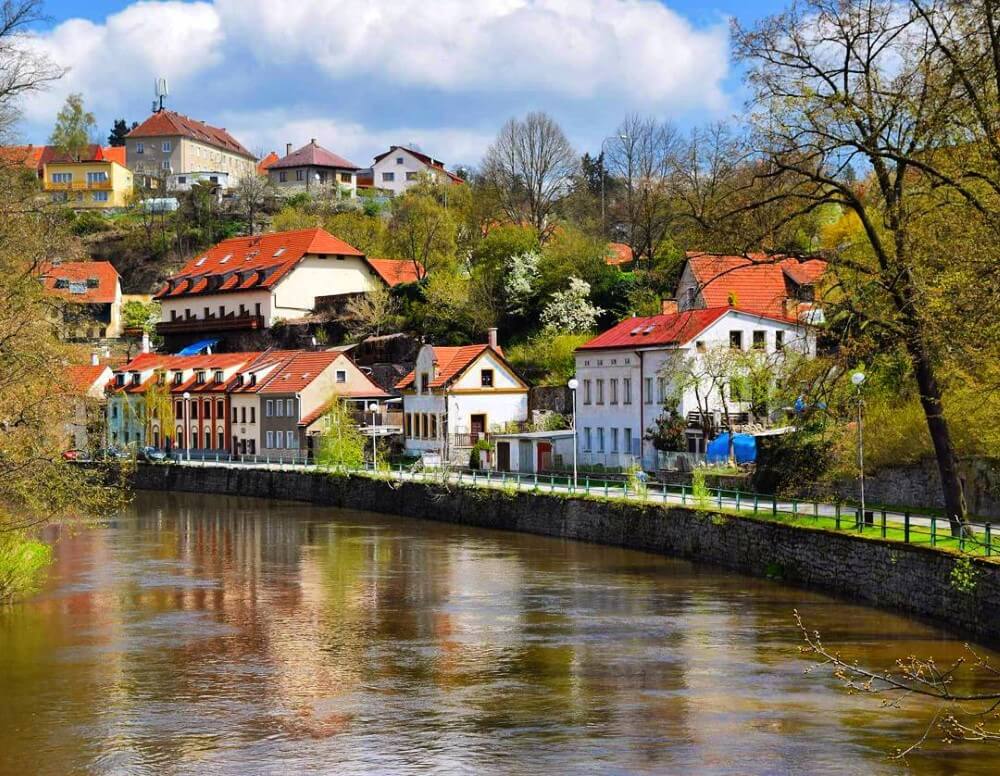 Cesky Krumlov is located in the south of the Czech Republic. It is a UNESCO protected world heritage site. It is the second most-visited place in the Czech Republic after Prague. Cesky Krumlov day trip is one of the most famous activity while you are travelling to Bohemia region especially from Prague.
Cesky Krumlov Day Trip from Prague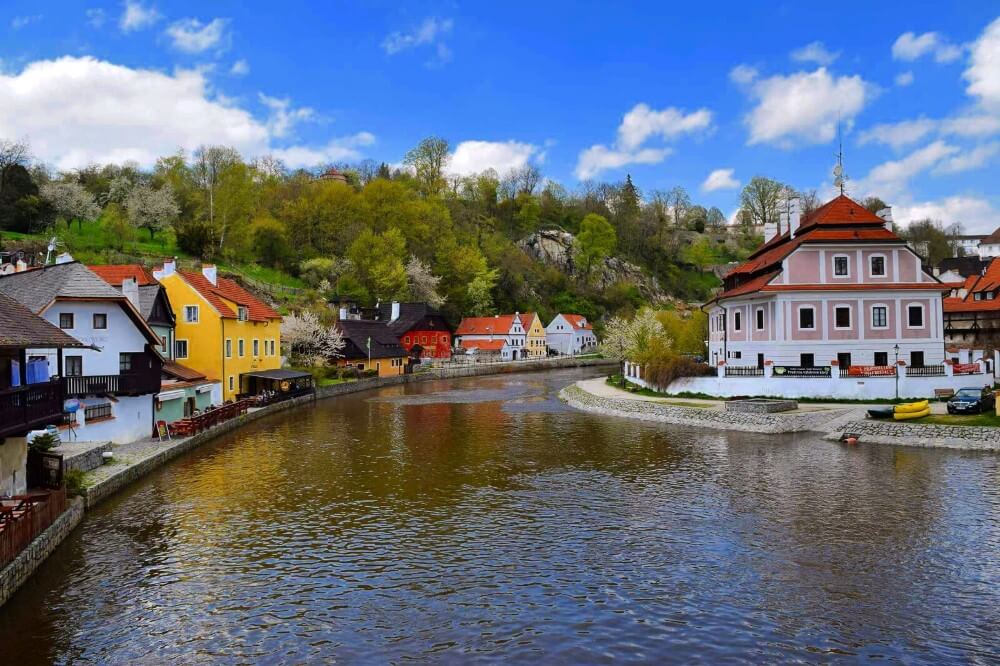 You need not to buy an expensive tour package or book a bus ride in advance. It is very convenient to just buy a round trip train tickets either in advance or on the same day. The train ride is very scenic and comfortable through the farms and forests of Bohemian. There is a direct train to Cesky Krumlov, leaving Prague Hlavni at 08:02 & arriving Český Krumlov at 10:50. For return we will suggest you to take an evening train from Cesky Krumlov at 18:52 with one change at České Budějovice, that way you will get more time to explore.
How much does it cost and how to buy tickets for Cesky Krumlov Day Trip
Prague Hlavni is Prague's main station which is just 15 minutes' walk from old town square. You can booked tickets directly from station in advance. An early bird ticket costs around 195 koruna (€7.50) each way.
You can also buy ticket on same day at full-price regular ticket costs 275 koruna (€10.50) one-way or 523 koruna (€19) return. Note: Both types of ticket are valid on any train, no need of reservation. It's that Simples!
Also if you are traveling on Sat or Sun than our pro tip is to buy SÍŤOVÁ JÍZDENKA for 679 koruna (~€26), it will cover the group upto 5 people
Highlights of Cesky Krumlov Day Trip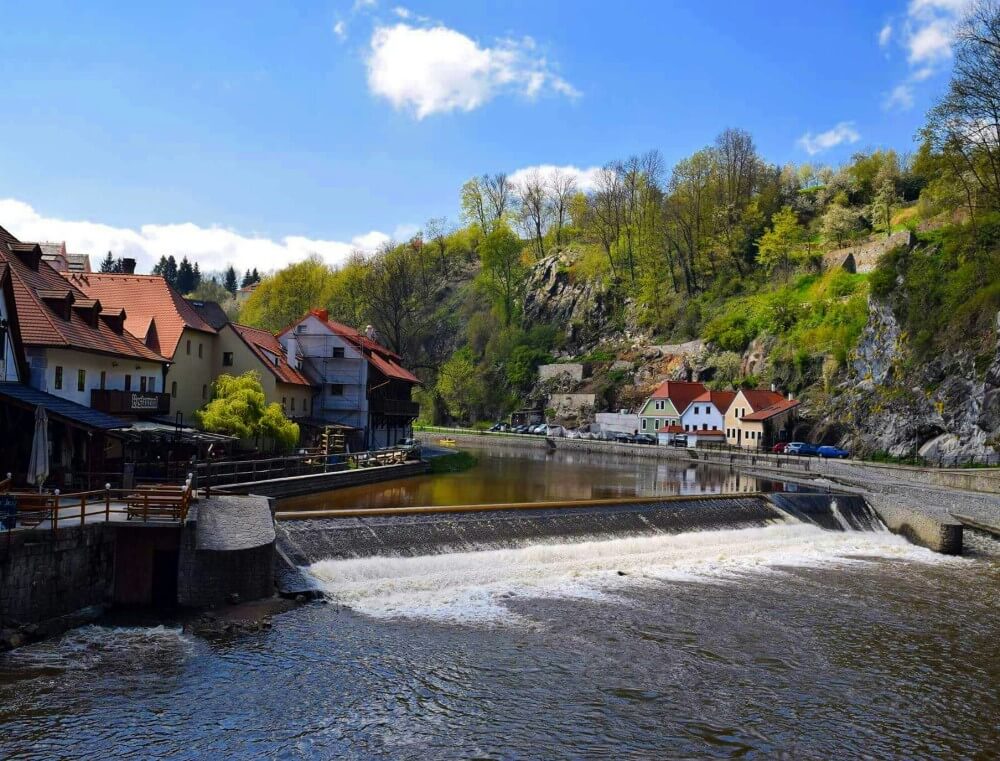 We entered old town from back of the castle and then walked right through the cloak Bridge. So, from there our journey in this gorgeous town begins.
Cesky Krumlov literally looks like something out of a fairy tale which makes us feel like walking in an old Disney film. The town is surrounded by beautiful Vltava River.
Cesky Krumlov Castle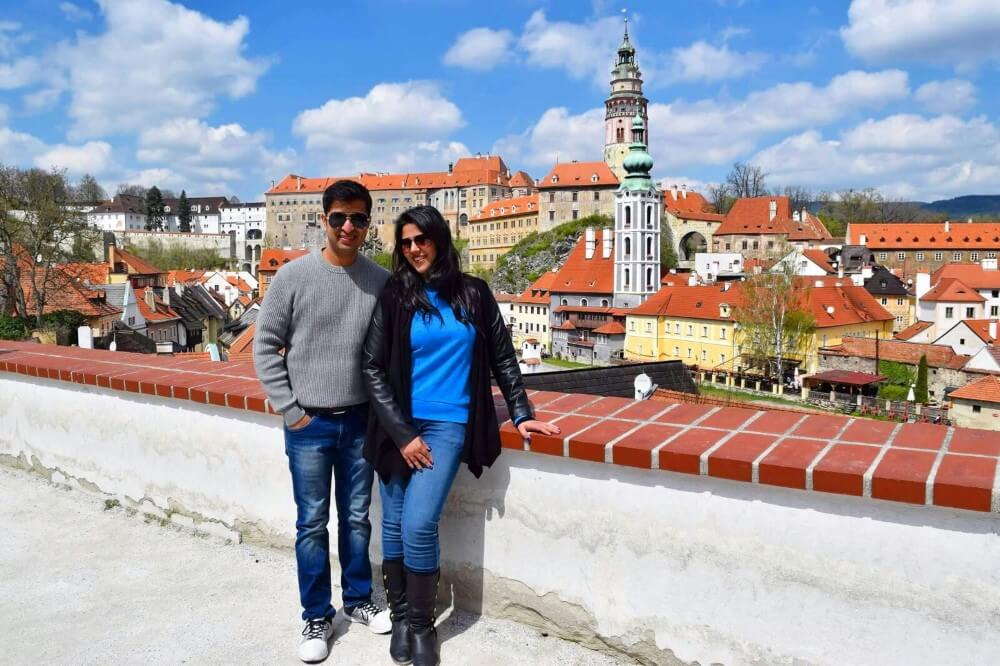 We started with a hike to castle. It is an easy one. It is one of the most beautiful and well-preserved castles in Europe. The Castle remains to this day to be the town's most visited attraction.
It is magnificent with its stunning exterior. The castle offers many striking sights and our favorite was the colorful round tower. To grab its full charm we had climb 162 steps to the top, from there we had amazing 360 degree view.
The castle is huge and we explored every bit of it. We found so many view points from where we had the most picture perfect views of this magical and gorgeous town.
The Medieval Town Square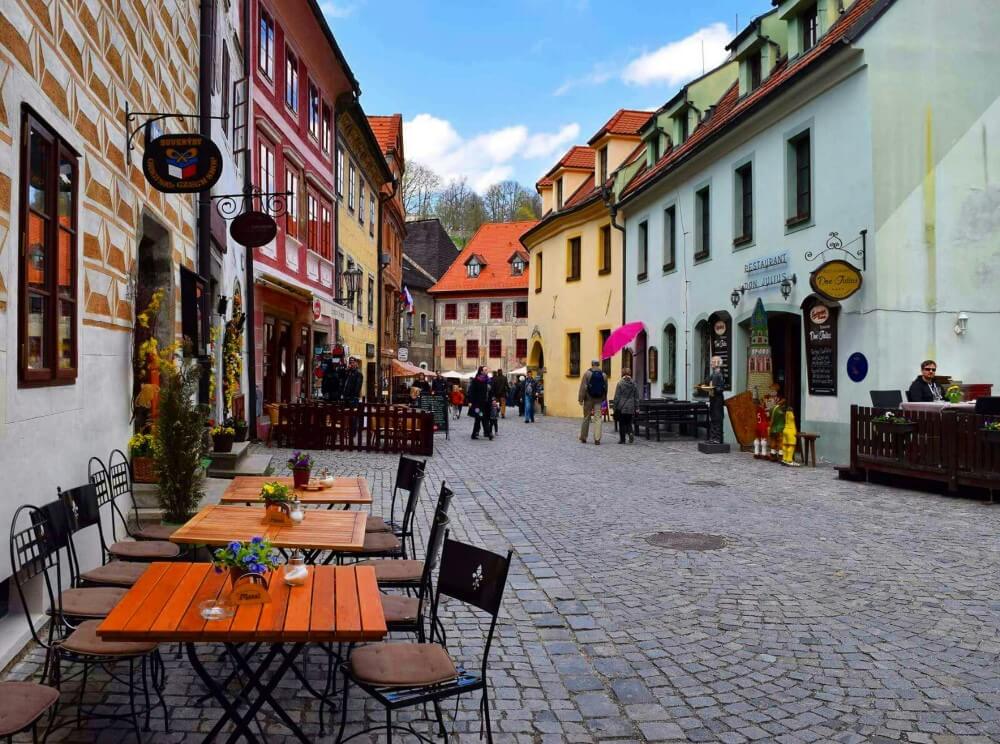 In the center of Cesky Krumlov is the medieval Town Square. It perfectly features the design of smaller Czech towns from the middle Ages. Medieval town squares features colorful houses, famous Plague Column, Old Town Hall and Torture Museum.
This is impressive place to visit. We relaxed ourselves with a coffee and took some photographs. We also enjoyed delicious ice cream in our later walks through the center.
St.Vitus Church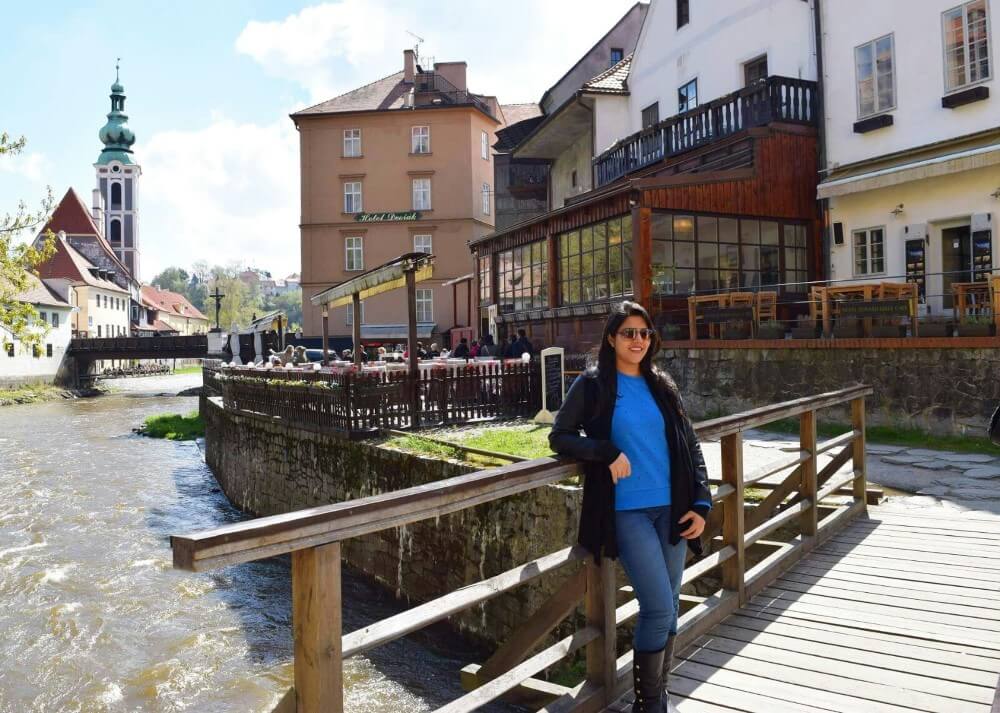 You've probably seen it before in the photographs of this beautiful town. It is one of the most picturesque buildings of Cesky Krumlov. Also it is one of the second highest point of Cesky Krumlov to have bird eye view of the city after castle.
It depends on what time of the year you visit, if lucky you might be able to go into the church and explore it.
We recommend for the best views, head towards the river directly beside the church. And for extreme photographing experience you look it out from castle.
Exploring the Medieval Streets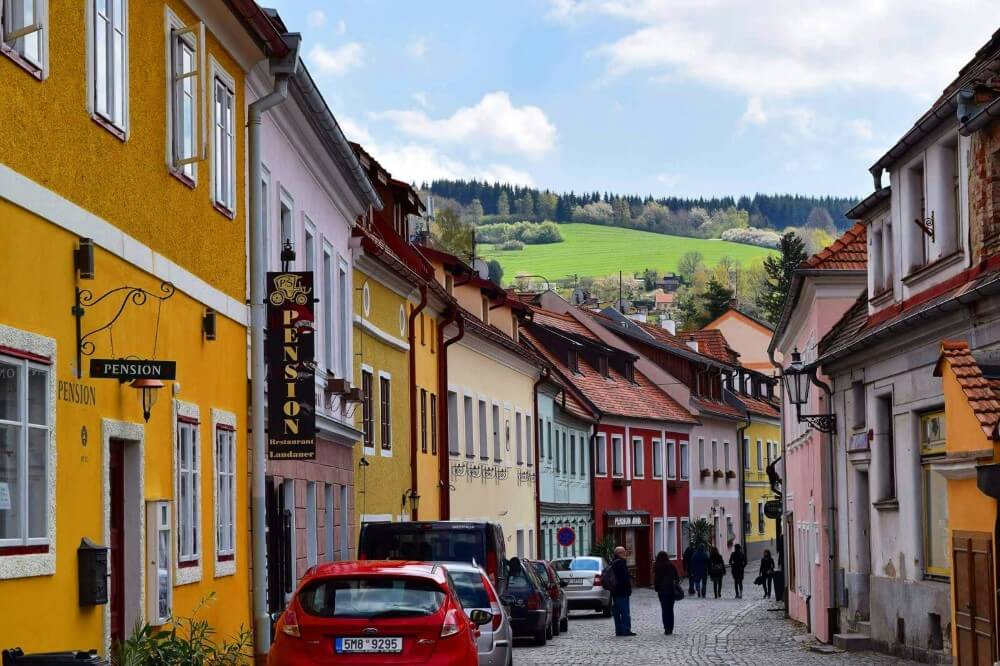 We have saved this for the last. Without a doubt, one of the best things to do in Cesky Krumlov is to explore many quiet & historic streets by just wondering throughout the entire Old Town.
It's not hard to find out why so many people call Cesky Krumlov a "mini-Prague". Most of the buildings are brightly red painted and there is something beautiful and impressive at every turn. The best way enjoy Cesky Krumlov is by getting lost in streets.
That was our Cesky Krumlov day trip from Prague. For any help you can mail us or can do FaceBook Chat. To see more of our travel pictures follow us on Instagram. You can also check our Prague Travel Guide.