Singapore is a global financial center and a business hub of Asia. Therefore there are number of hotels in Singapore. Capri by Fraser Singapore is one of the award winning property in Singapore. This time for our trip we choose Capri by Fraser, Singapore. We were impressed with its high ranking and perfect review score on Tripadvisor and Agoda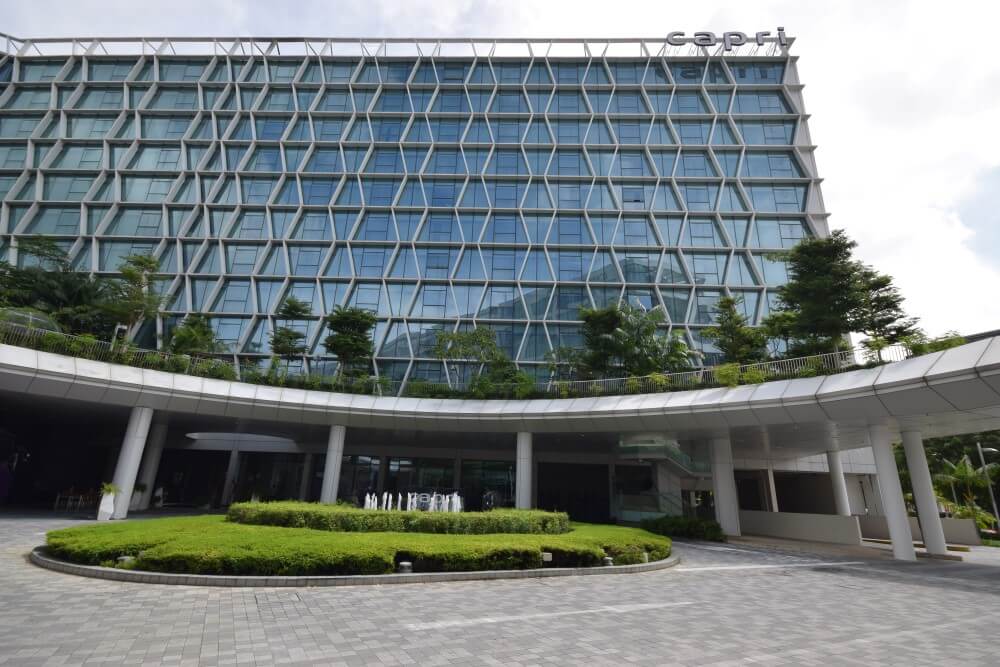 What makes Capri by Fraser Singapore Unique?
The Capri by Fraser Singapore provides a luxurious and comfortable stay with lots of facilities. Their studio rooms are fully equipped and can be perfectly called as a home away from home. Whether you are on business trip, leisure vacations or on a short stay this is undoubtedly an ideal place for you. Because of their winning hospitality they are also famous for staycations.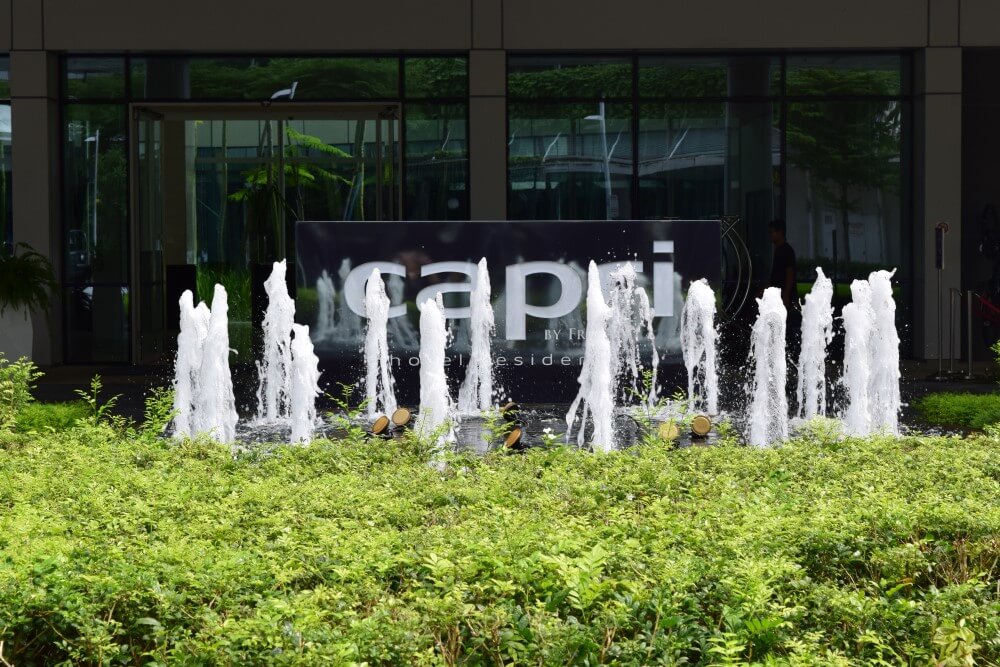 Perfectly Located
Capri by Fraser Singapore is perfectly located in the Changi Business Park Central 1 Singapore. It has recently developed into one of the main business districts of Singapore. The property is 10 minutes' drive from Singapore Changi international airport. It is very easy to reach this place. The hotel has its own Shuttle bus service. Alternatively you can take a taxi or even a MRT to Expo Station which is just one station away from Airport.
The best part of staying in this hotel is that it offers the perfect base to explore Singapore as the Expo MRT station is just 3 minutes' walk from it. MRT transport system is back bone of Singapore as it is widely spread throughout the country and which makes it easy to explore all the attractions of Singapore. All major attractions are just half an hour away from Hotel.
Address:
3 Changi Business Park Central 1, Singapore 486037
Tel: +65 6933 9833 | Fax: +65 6933 9888
Reservations: +65 6338 0800
Local Toll-Free: 1800 338 0800
Email: reservations.singapore@capribyfraser.com
Nearby Necessities
Convenience Store | 7 Eleven : 200 m
Shopping Mall | Changi City Point: 50 m
Hospital | Changi General Hospital : 2.5 km
Train Station | Expo : 200 m
ATM : 50 m
Beautiful and chic Ambiance
The ambiance of the Capri by Fraser Singapore is very well presented which represents an excellent blend of comfort with warmness of a home. Starting with the lobby and entrance there is an aromatic breeze.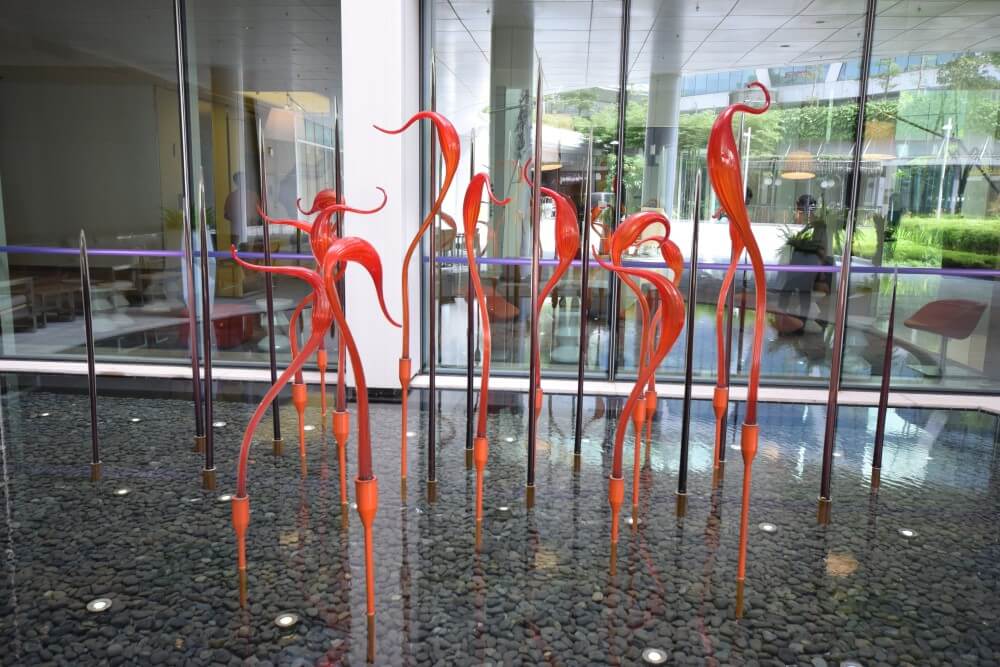 The interior of the lobby is soothing like a modern art gallery. The geometric design on floor carpets, pendant lights and expressive sculptures installation on wall all together gives a whole unique look to the hotel.
Hotel Lobby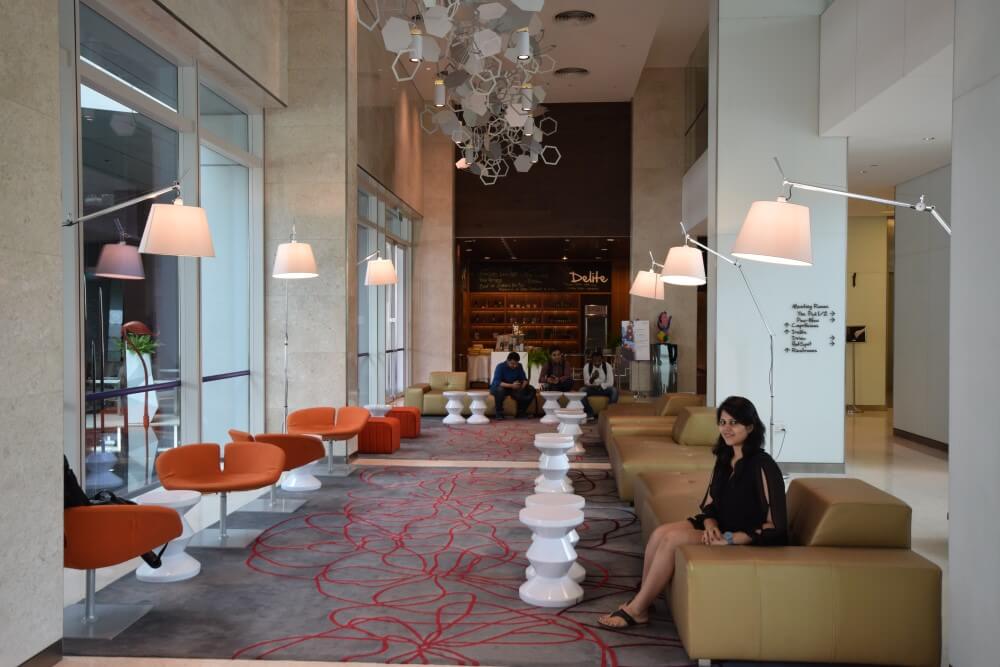 Entrance area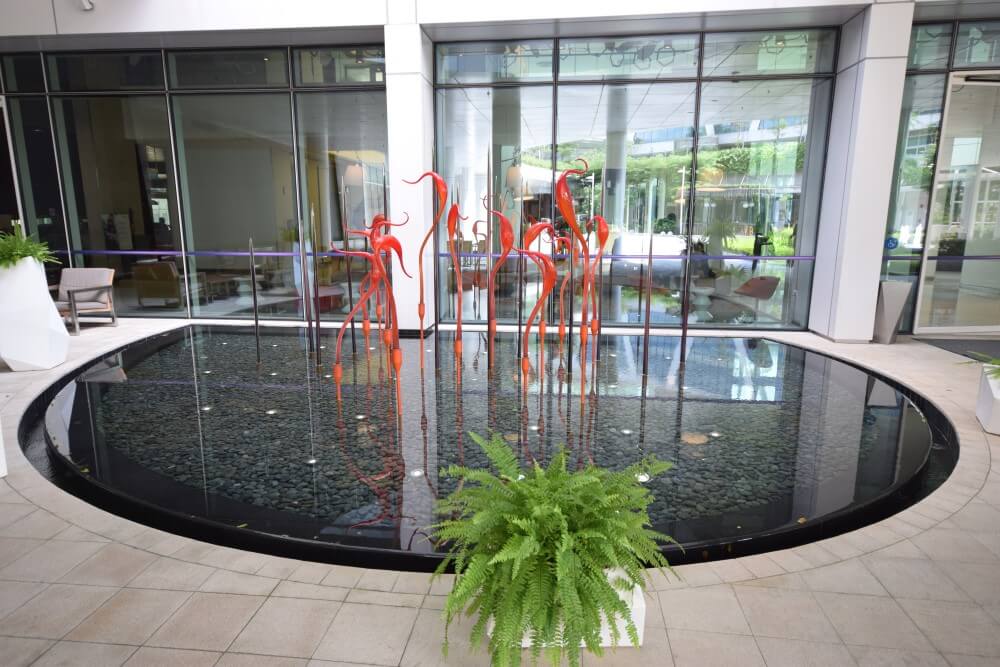 Room: Studio Superior

The superior room was fantastic. Stylishly decorated in a combination of red, white and wenge colors. A spacious room with king size bed adjacent with a lovely couch and two bedside tables. Room was also furnished with a coffee table. Studio room also had a fully equipped kitchen making it a perfect home away from the home. The bathroom was hygienic and spacious which includes wooden wardrobes and iron stand too. The toiletries are of malin+Goetz. The room was quite cozy and comfortable.
Bathroom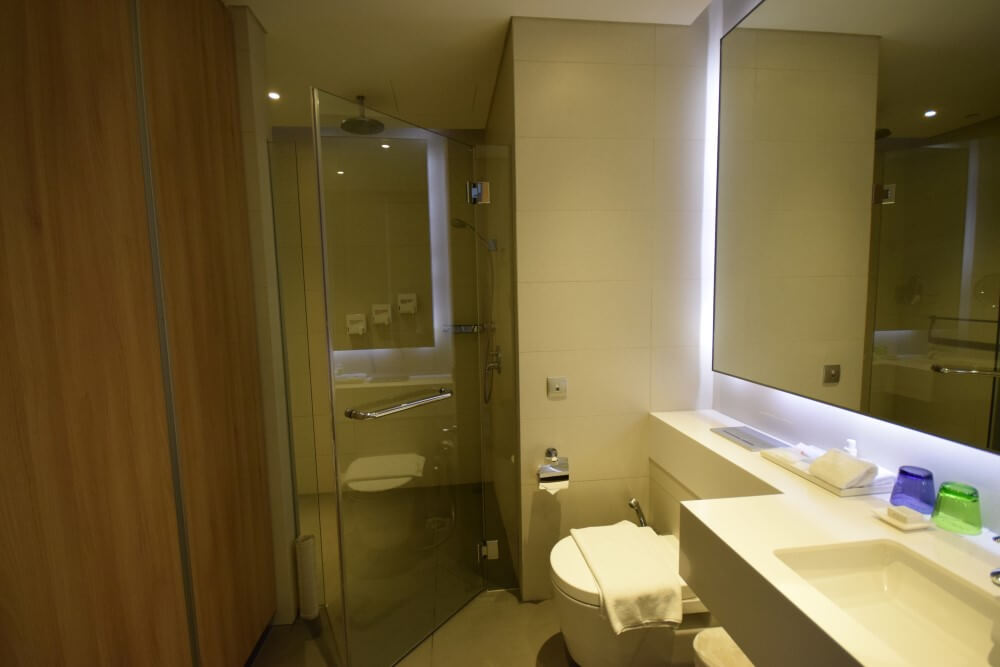 Fully equipped kitchen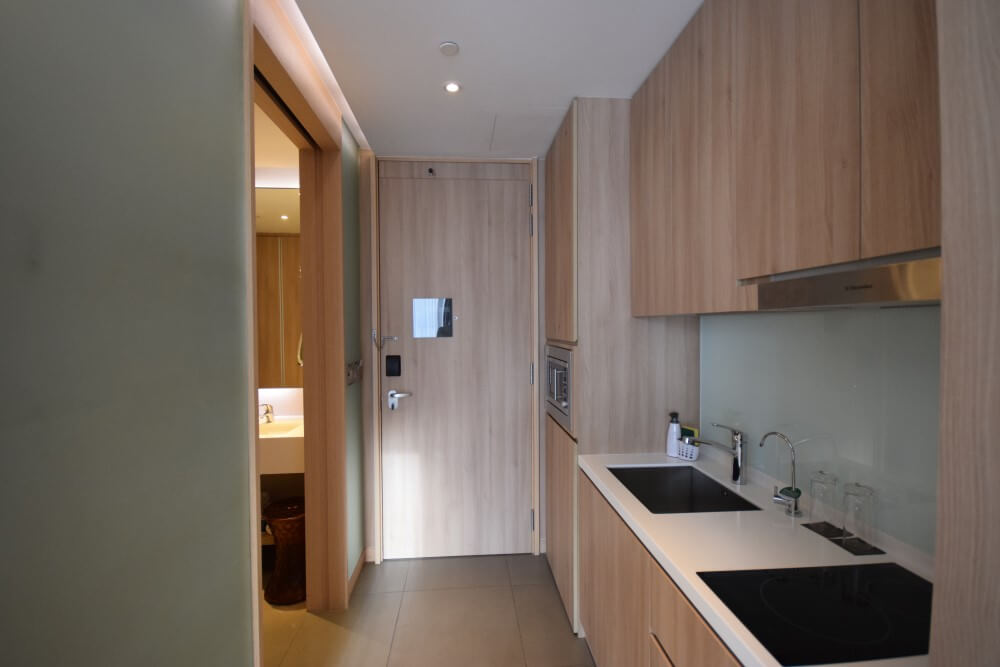 Studio Superior room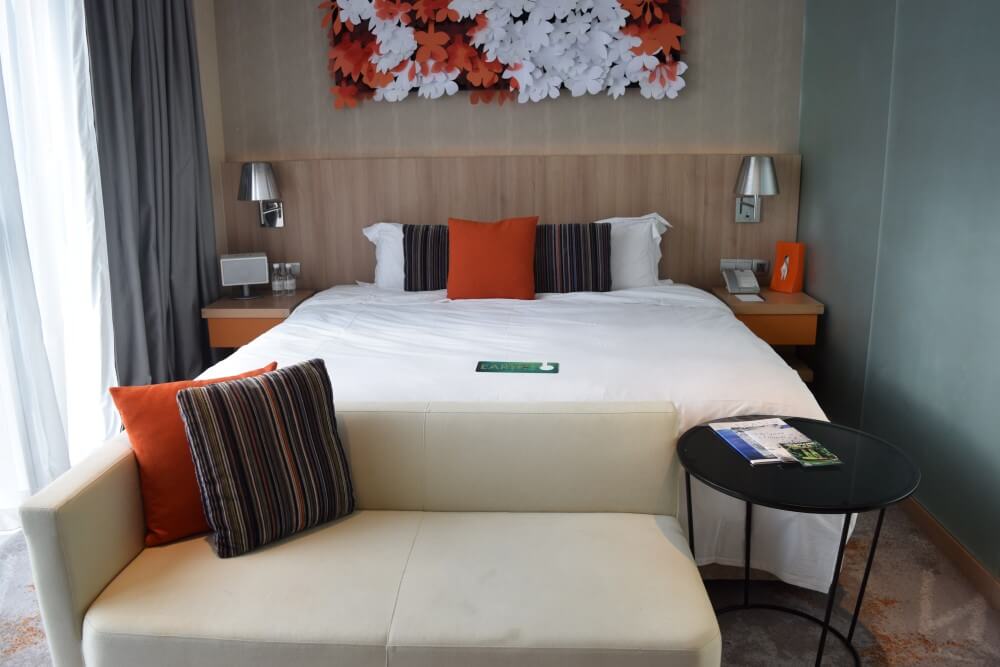 Dining and restaurant
The hotel has three dining and restaurant area depending on the mood of the customer.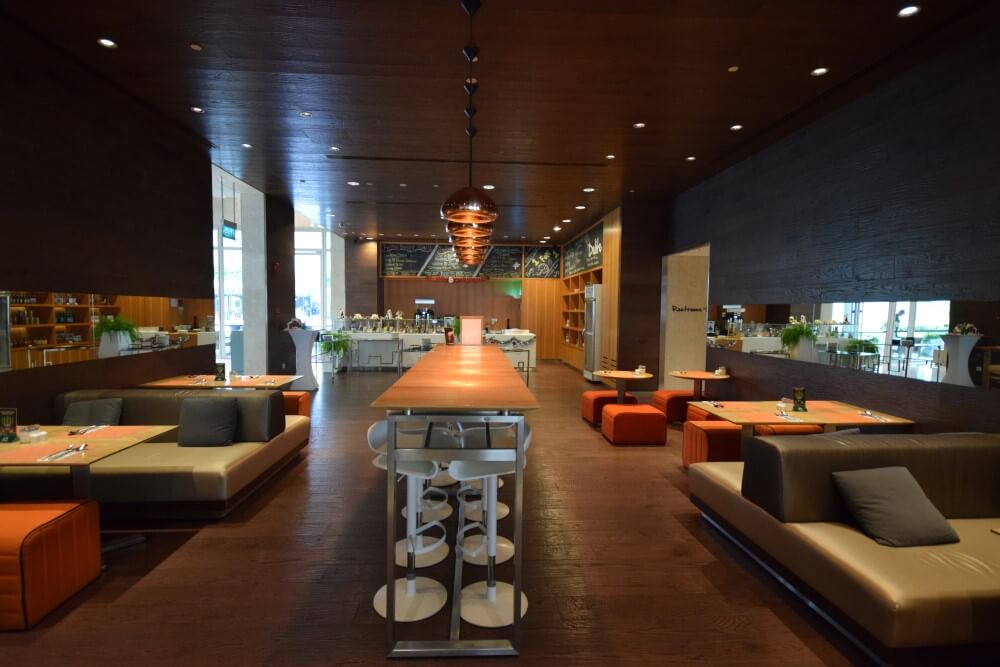 Caprilicious: It is one of the main restaurant of Capri by Fraser Singapore. For the breakfast buffet they have an exclusive and super healthy international breakfast which also includes local food options of Singapore. The breakfast buffet had a table of fresh fruits, cheese, meat and a separate section for eggs. For sweet lover there was a treat of freshly baked muffins, waffles and chocolate croissants. The buffet timings are from 6.30am-10.30am. The Caprillicious is open whole day and at your service for al-la cart lunch, dinner and also for room service.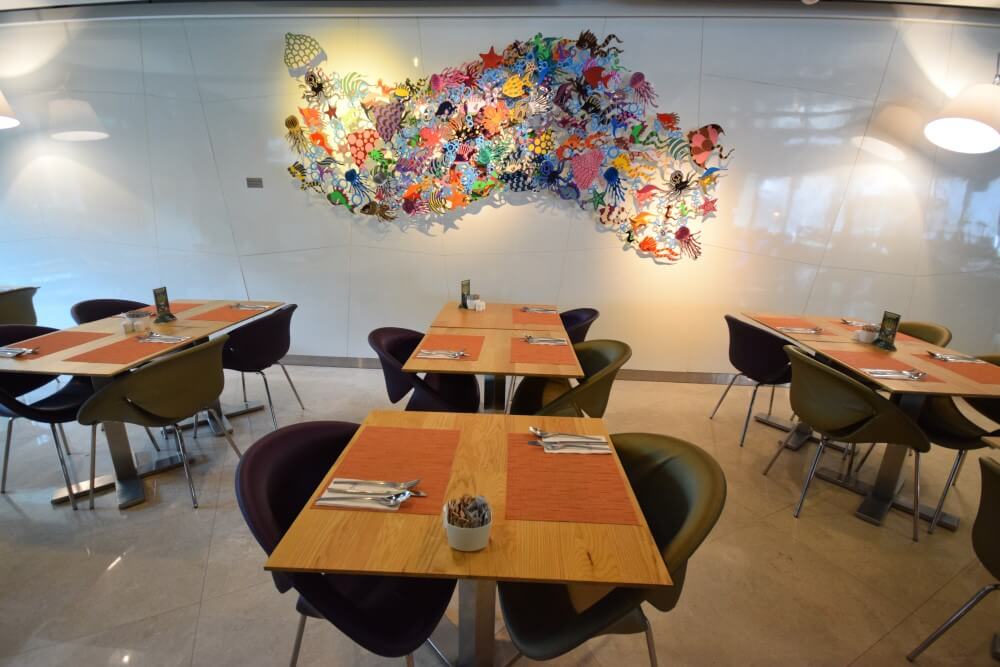 Caprilicious dining area

Delite: Here is the restaurant for munching of burgers, pizzas, sandwiches and for some other quick light bites. It is opens from 10am -7pm.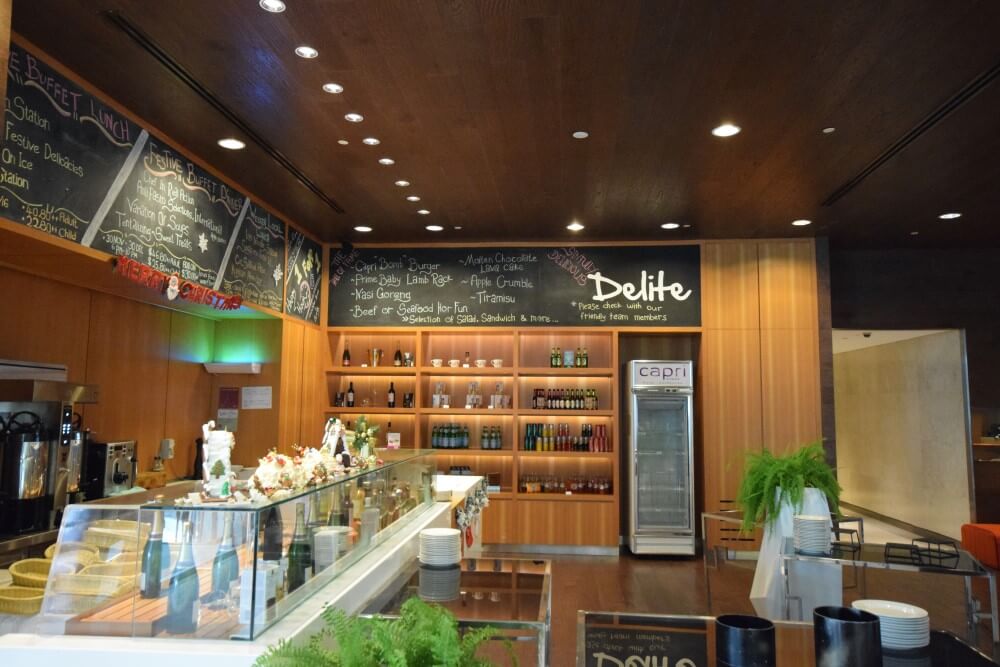 Snacks time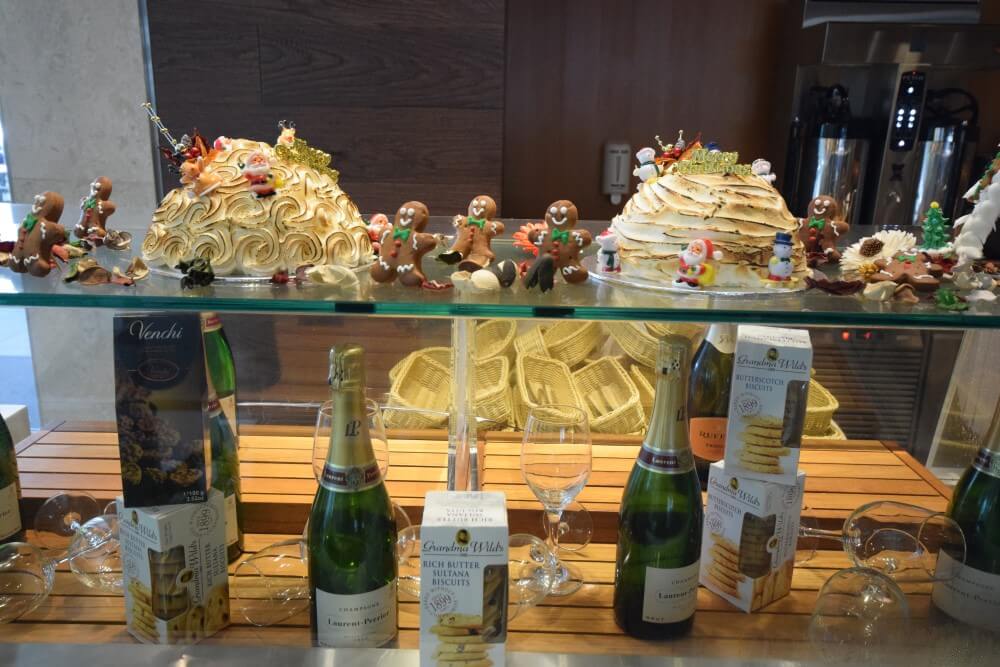 Drinx: Enjoy your drinks here at drinx which is their lobby bar.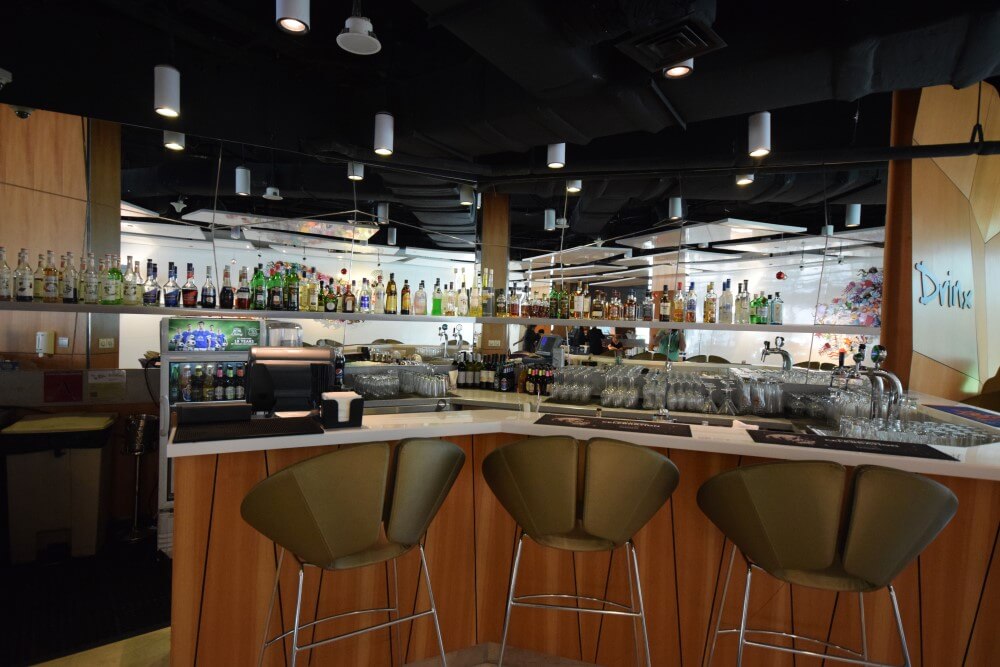 Ripples:This is their poolside bar which offers variety of beverages. So after the long day this is perfect place to sip your drink and relax.
Fun and exciting feature of Capri by Fraser Singapore: SPIN n PLAY
Spin n Play is a unique featured introduced by the hotel. Do your laundry and have fun 😉 There are launderettes at every floor where you just put your clothes in washing machine and play while waiting. Each room has different feature of entertainment like foosball table, XBox playstation, gym cycle, television, roping etc. So it's just not laundry it's fun time, play time.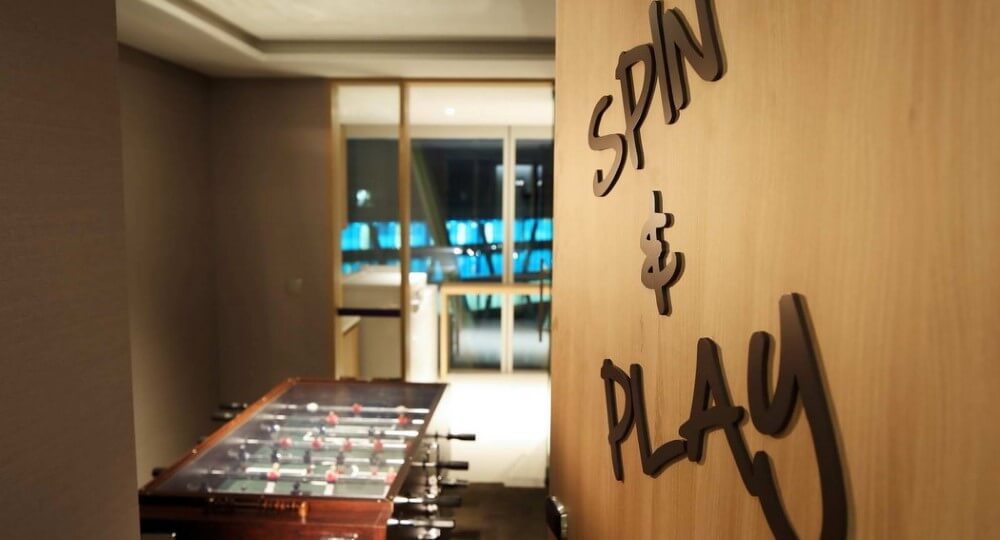 This image is courtesy Capri by Fraser Singapore and they hold full copyright
What more to offer by Capri by Fraser Singapore: Other Amenities
Business Center and Meeting Rooms: If you are on a business trip then this is the perfect place.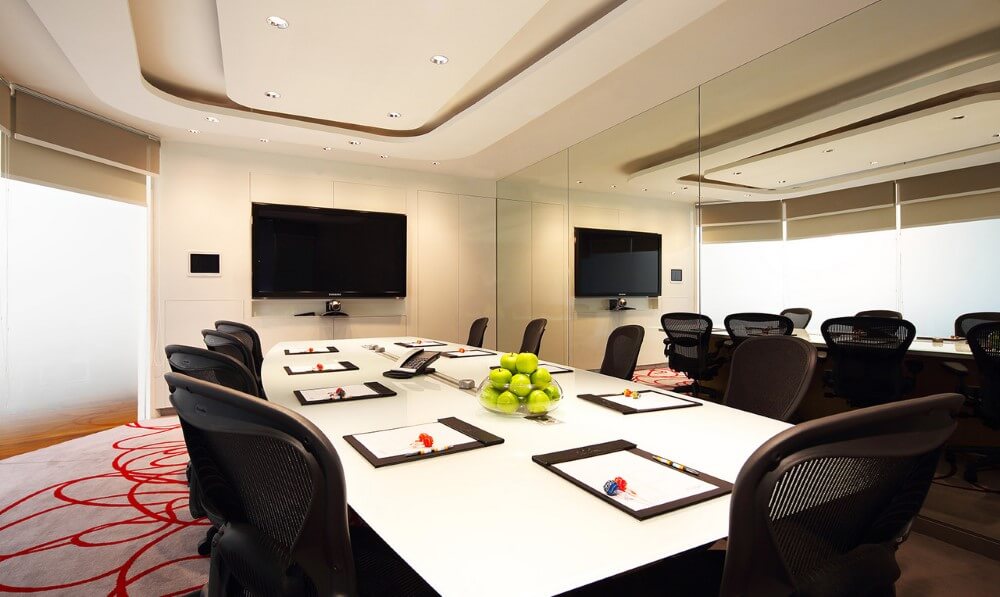 This meeting room image is courtesy Capri by Fraser Singapore and they hold full copyright
Hot spot: There are iMacs at hot spot center for free use of internet. You can also take print outs here if needed.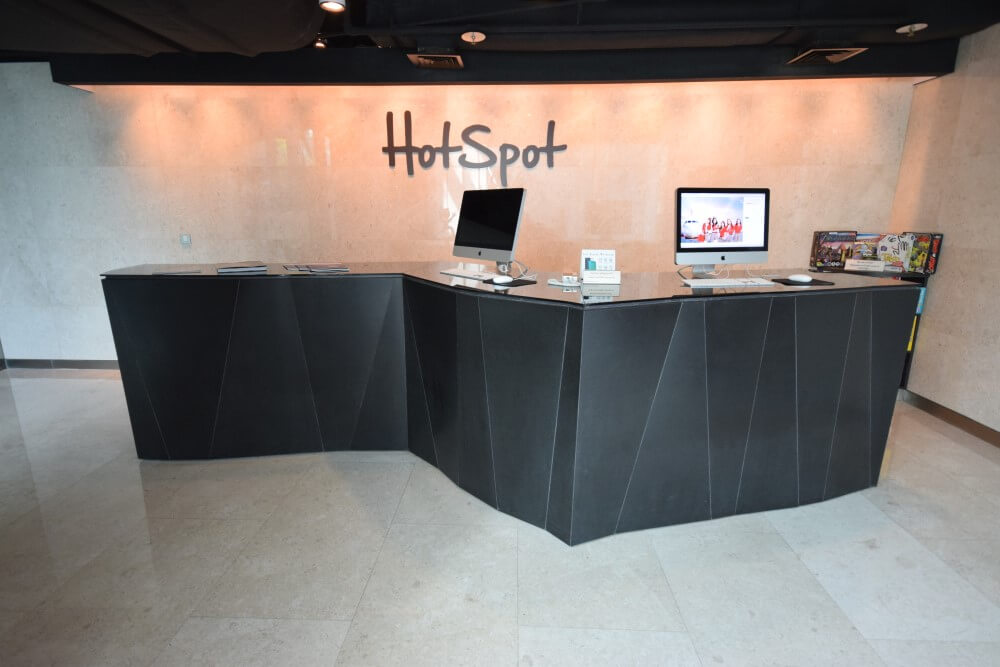 Swimming pool: At level 2 you will find the swimming pool. Pool is accessible at all times, although hotel's security will prohibit usage for your own safety after 10pm.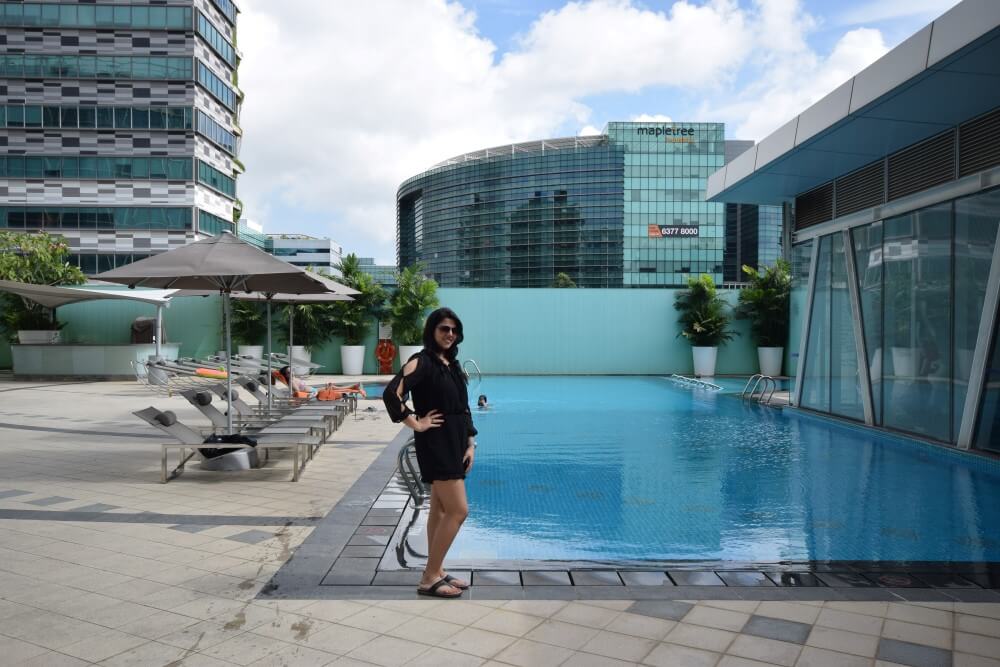 Sauna: Sauna is self-operated room with a set timer. Note: please read the instruction before you enter in.
Gym: Fully equipped gym with a swimming pool view. And I think it is brilliant idea to open gym 24*7 because sometimes it's the time frame which becomes an obstacles in our workout routine.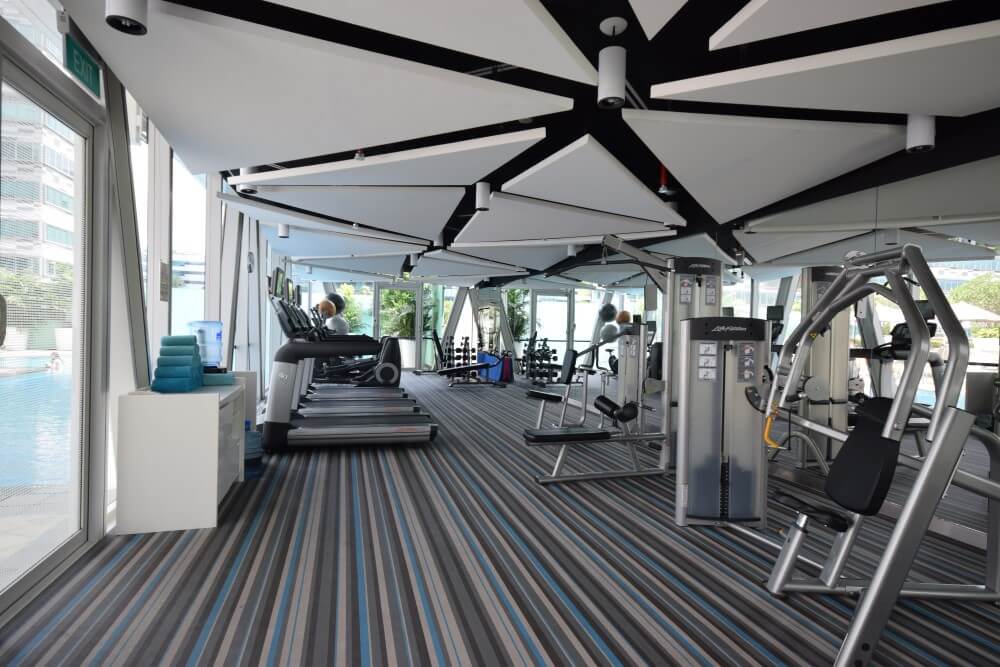 Airport Bus shuttle: Free airport bus shuttle is available to and fro which runs every hour.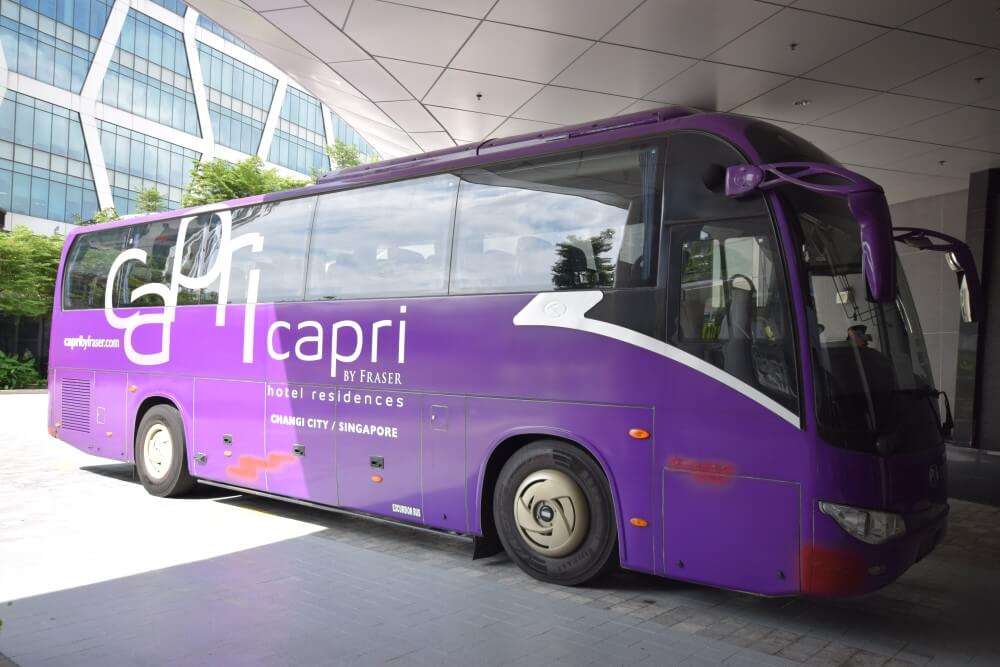 Bag Drop facility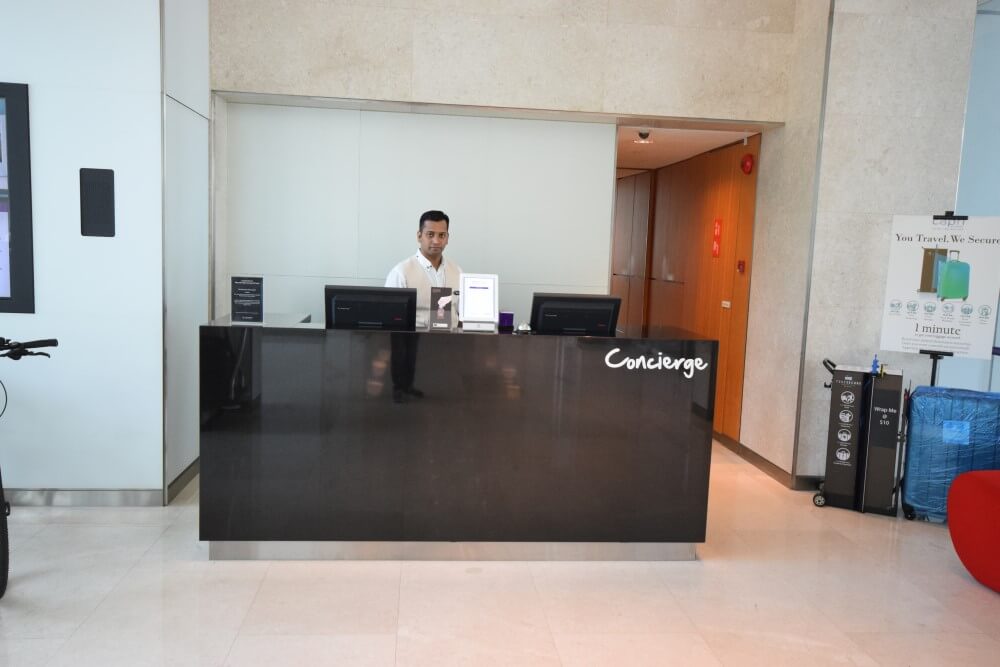 Rent a bicycle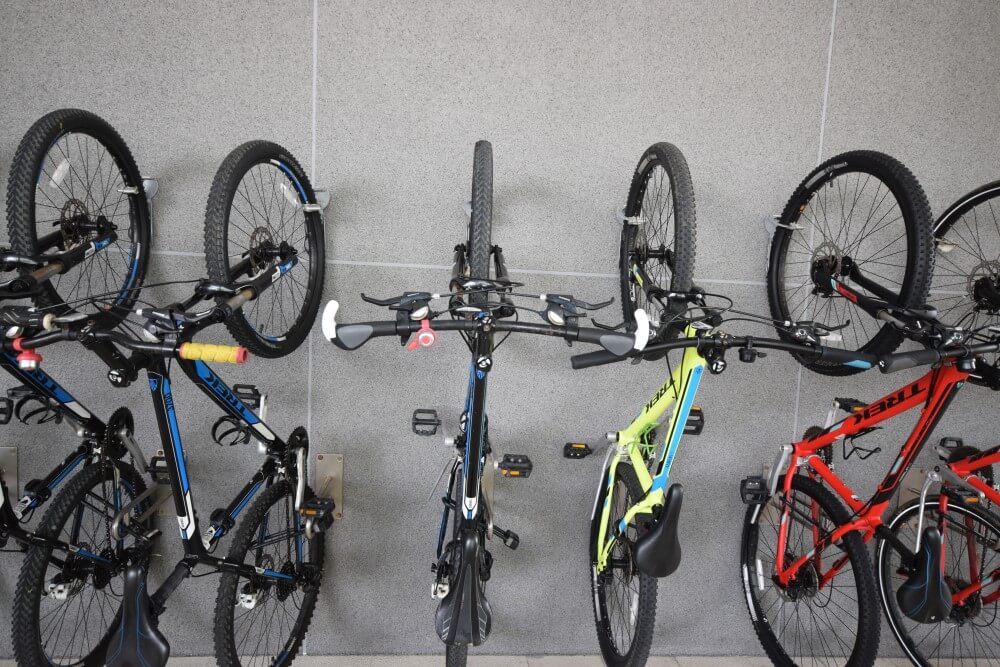 Travelpeppy rating based on our experience:
Our rating will be perfect 5/5 *****
Check-in and check-out processes were very smooth.
Airport bus shuttle was on time.
Delicious and variety full complimentary breakfast.
Add-on unique feature of Spin n play.
Staff was attentive, friendly and smiling.
Fully equipped kitchenette a welcome option.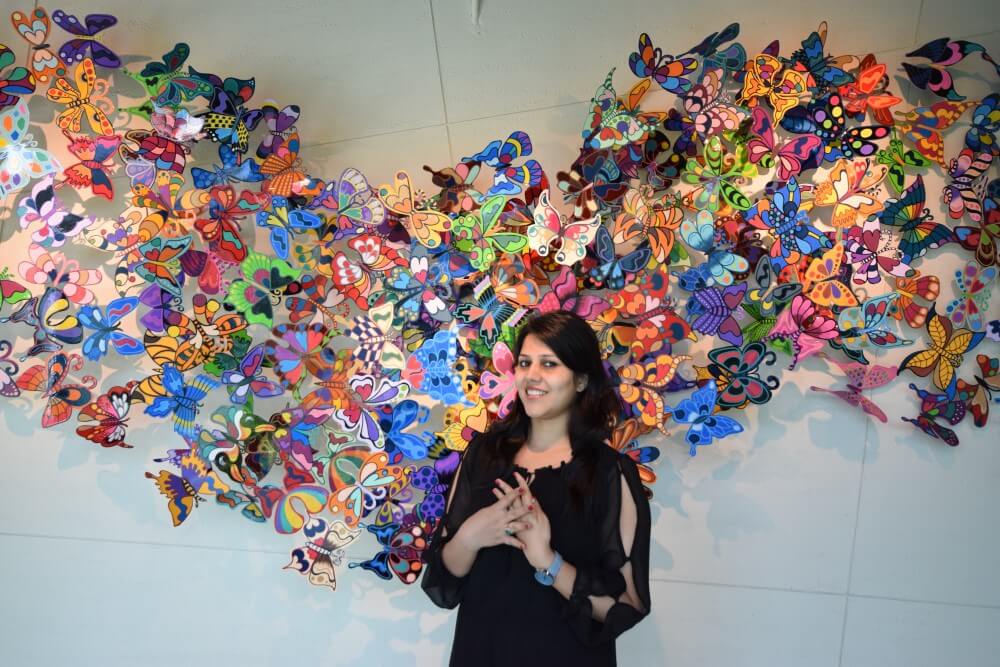 Will we visit again to this property?
Definitely a yes. Thumbs-up for the great hospitality. The hotel has consistently excellent online reviews and you should definitely stay in Capri by Fraser if you are coming to Singapore
Follow us on Instagram for more pictures and travel stories from around the world.
Disclaimer : This post is in collaboration with Capri by Fraser Singapore but we own all the views and opinion to bring out the honest review for our readers.