Charcoal Tandoor Grill & Mixology is a unique Indian restaurant. It has already created buzz in Bangkok with a new concept of "Fun Dining".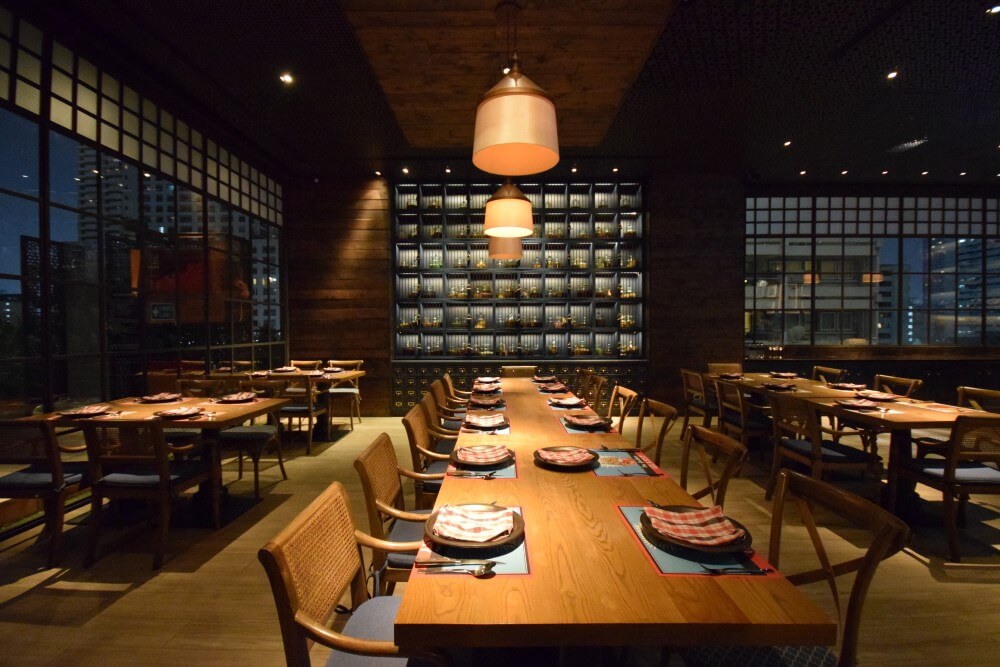 It is not like other clichéd Indian restaurants, don't expect to see much curries here because their specialty lies in the use of classic tandoors along with the mix of great Indian spiced unique flavored cocktails. The restaurant has already booked its position among Bangkok's top 5 Indian restaurant and is certified for excellence by Trip Advisor. If you want to have authentic Indian flavors and twist of mixology in cocktails than there is no other restaurant better Charcoal Tandoor Grill & Mixology.
Location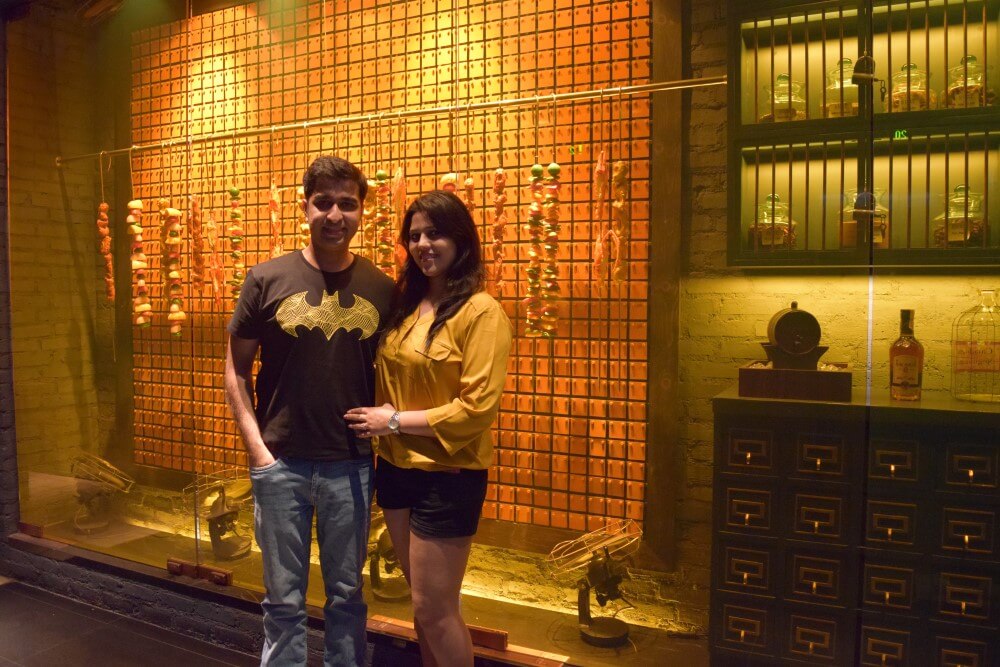 The Charcoal Tandoor Grill & Mixology is perfectly located in the heart of city. It is situated on the 5th floor of Fraser Suites in Sukhumvit Soi 11. The place is just 5 minutes' walk from Nana BTS station. If you are driving thorough by your car, they have well enough parking area.
Ambiance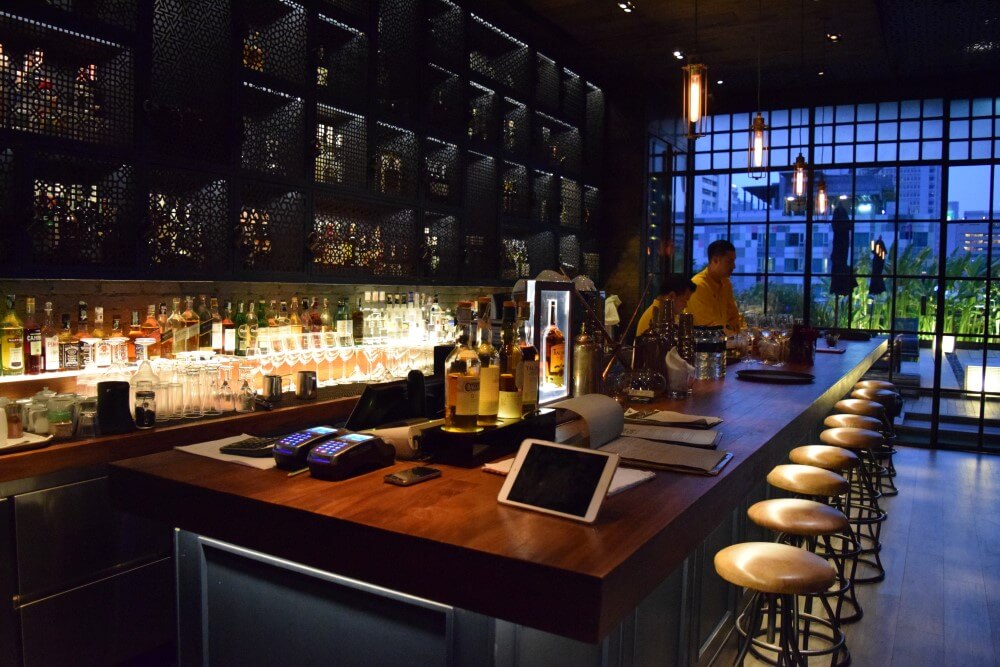 We love to talk about the ambiance of Charcoal Tandoor Grill & Mixology because we found it very interesting. The restaurant needs to be explored ;). There are fun elements at every corner of the restaurant. At the entrance there is a cycle with hanging lunch boxes (Dabbas), which is a tribute to Mumbai Dabba wala. The rusty decor is very impressive with contrasting wooden furniture unlike the sofa setting in other fine dining restaurants. The spice wall is adding a hint of spiciness in the whole ambiance. It is also a Spice library if you want to know more about the authentic Indian Masalas.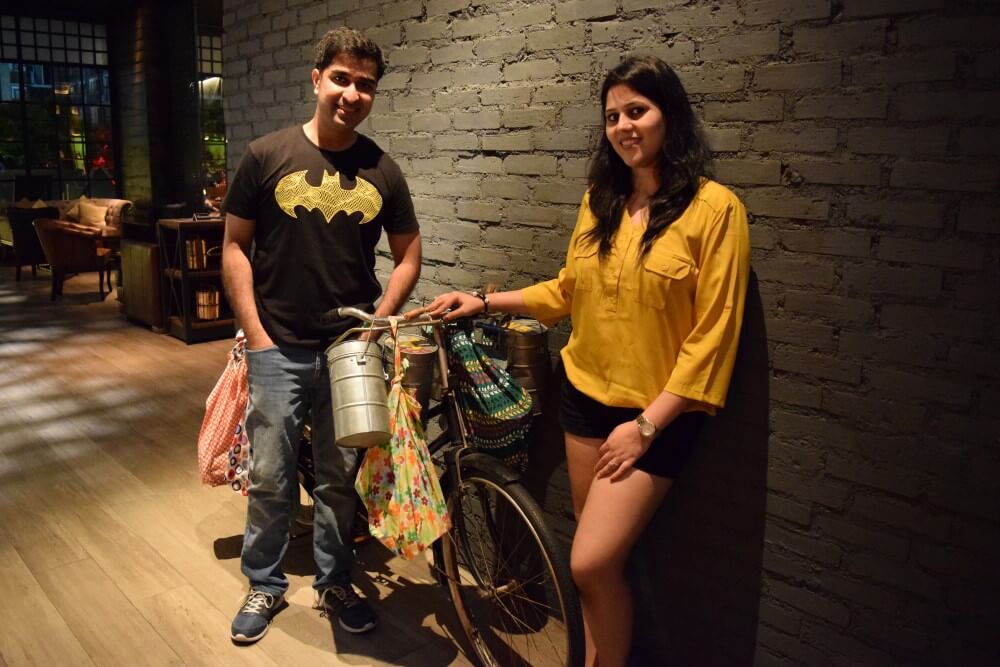 It amazed us the most, when they gave us cute aprons to put on before the meal. We will definitely like to mention the very unique bathroom of Charcoal Tandoor Grill & Mixology. They have a sound of hustle bustle markets of Delhi (India), and funny Indian sign boards (keeps you equipped while peeing) ;). The restaurant also has outdoor dining arrangements next to their swimming pool, where you can enjoy dinner with great view.
They have antique crockery display, we loved vintage copper mugs, cute little tea pots and huge copper plates tandoors.
Fun dining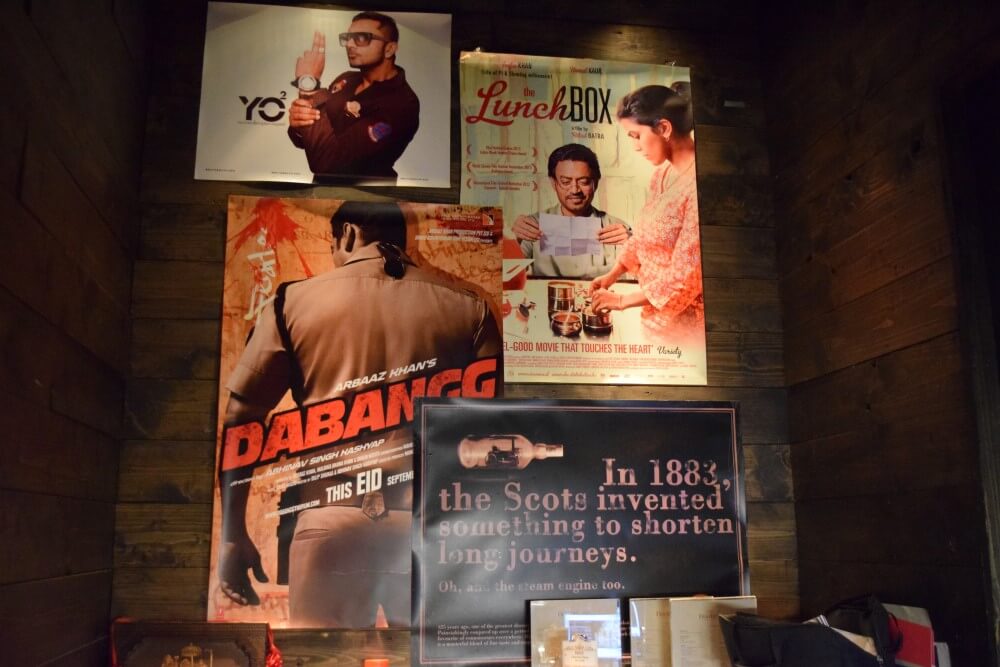 Spice library charcoal

Vintage copper mugs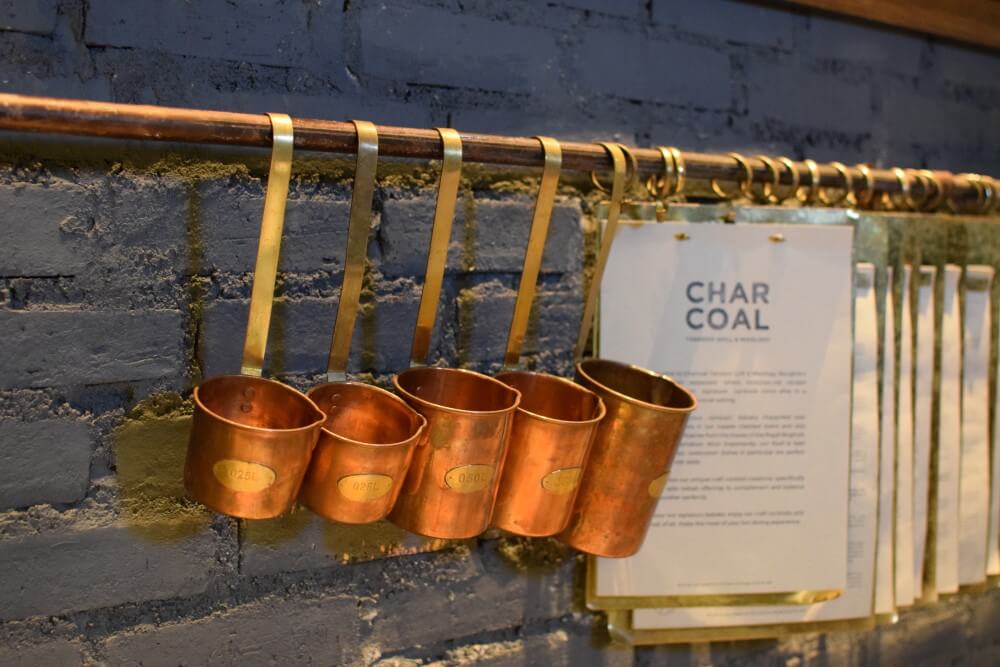 Food
The food menu is very perfectly designed at Charcoal Tandoor Grill & Mixology. The restaurant has perfectly kept the authenticity of Indian Cuisine. Not only it is a great place for meat lovers, but we must say after tasting their Paneer and grilled vegetables, it is a go to place for vegetarians in Bangkok.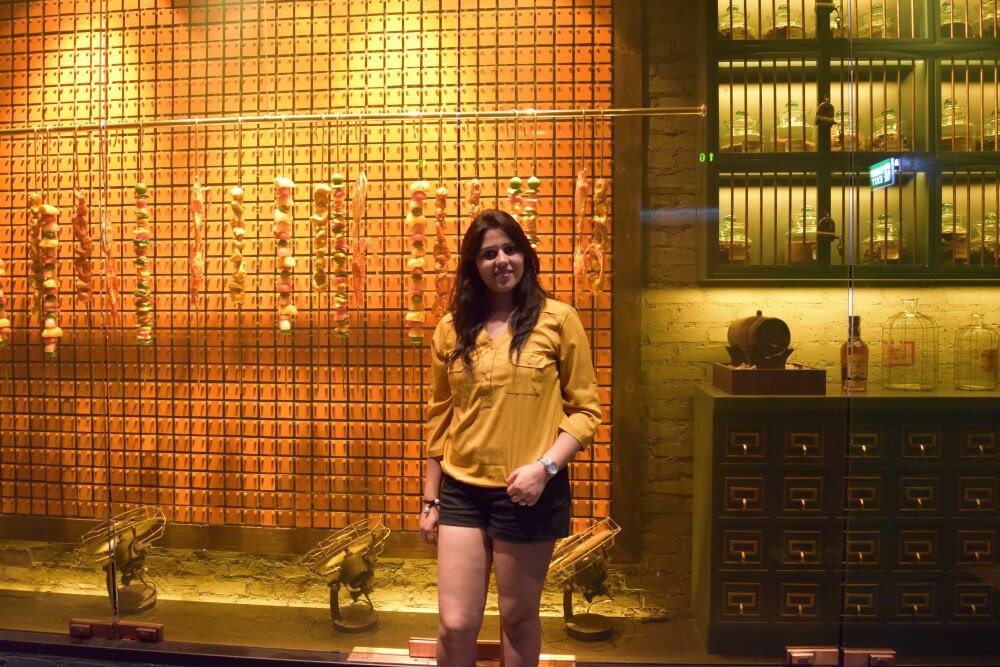 All the food served there is 100% Halal.
What impressed us the most in their menu is, that they have mentioned list of food along with the recommendation of drinks that will go with each food item. They have already paired your food with drinks (for your order there is no point to go wrong).
Charcoal Bangkok has emphasis on tandoors and grills, Kebabs are the kings. They don't have much options of curries. And their tandoor dishes are outstanding. They are well marinated, tender and soft (you will enjoy each bite). They use traditional cooking methods like clay tandoors, slow cooking, exotic marinades and fragrant rubs which shows wisdom and passion in their cooking.
Tandoori Fish Tikka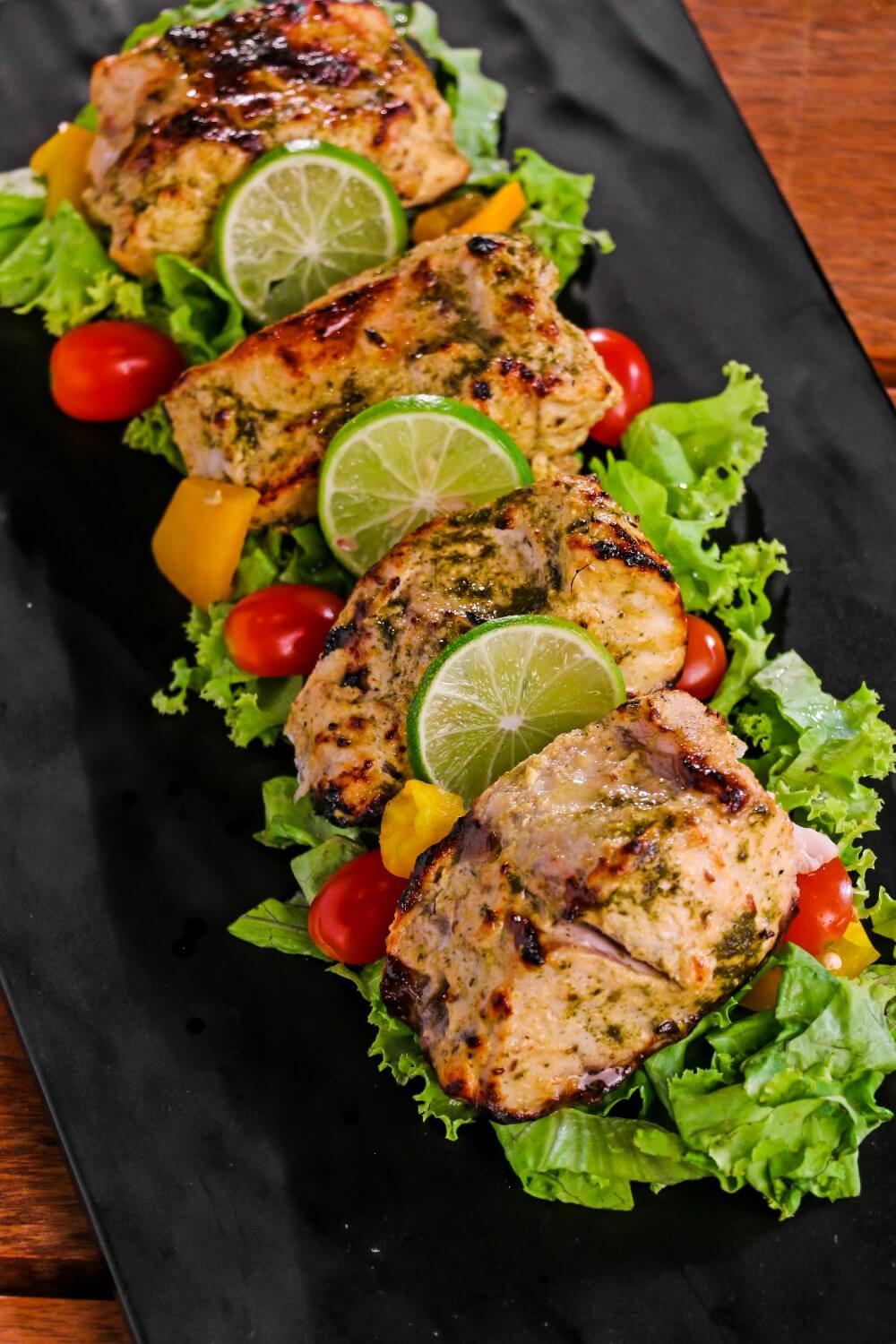 This image is courtesy Charcoal Tandoor Grill & Mixology and they hold full copyright
We can have everything on menu, therefore we asked Mr. Vijay (Manager of Charcoal Tandoor Grill & Mixology) to help us.For staters we had Murgh Malai Kabab and Stuffed Paneer Roll (was new to us) followed with main course for which we ordered Restaurants special Dal charcoal and Dum Ki Raan with Turrah-naan and Tandoori Roti.
Murgh Malai Kabab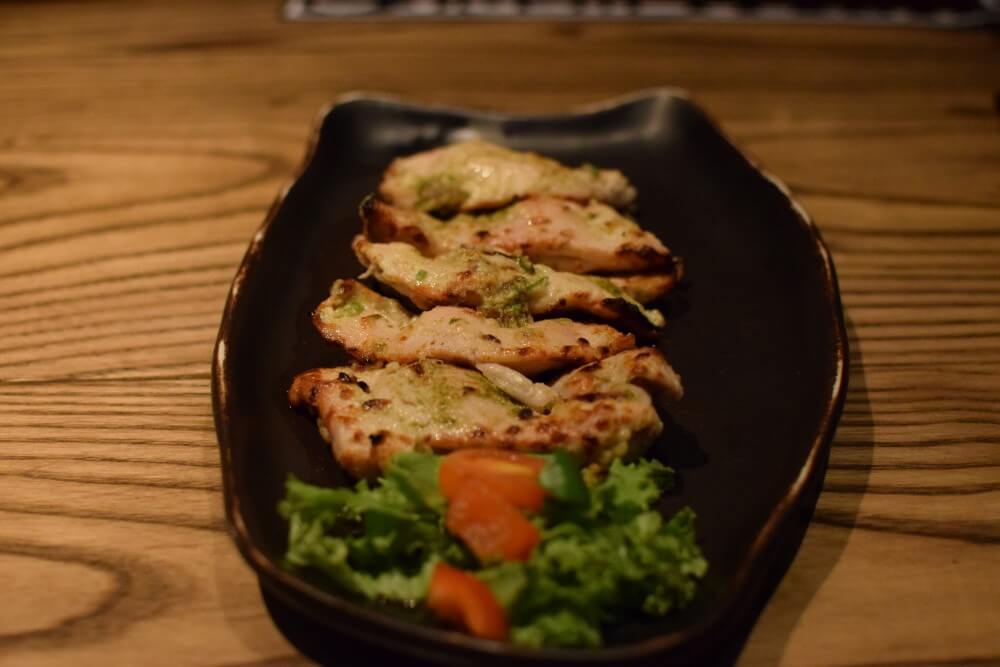 Stuffed Paneer Roll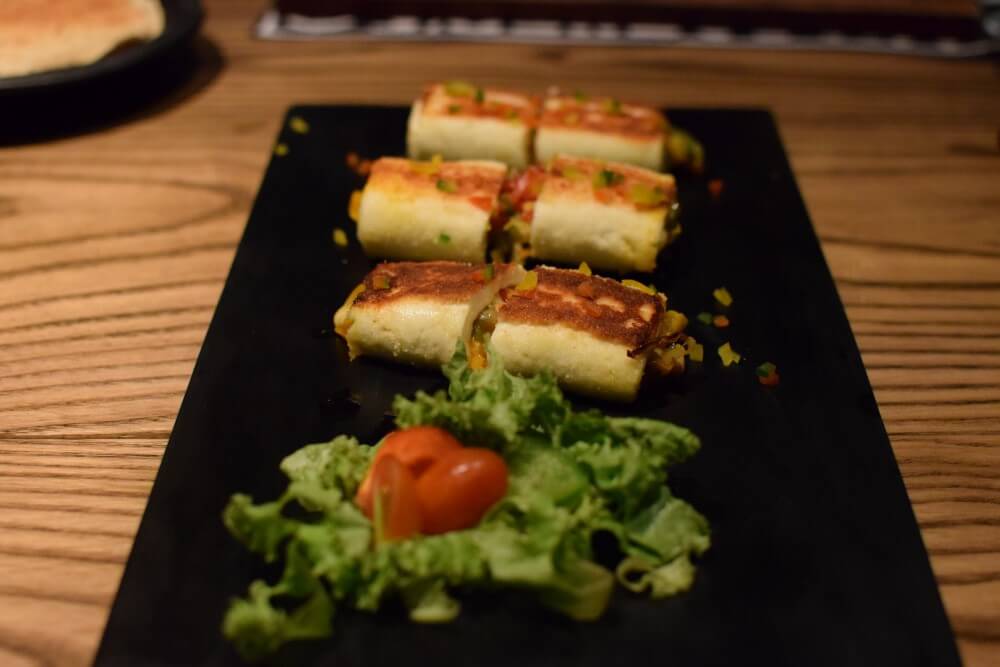 And Dum Ki Raan is a delicacy from Royal house of Mughals. The Whole leg of Lamb was marinated in mystery spices and slow cooked. The flavor was amazing and the lamb was succulent (so juicy that it was melting in mouth).
Dum Ki Raan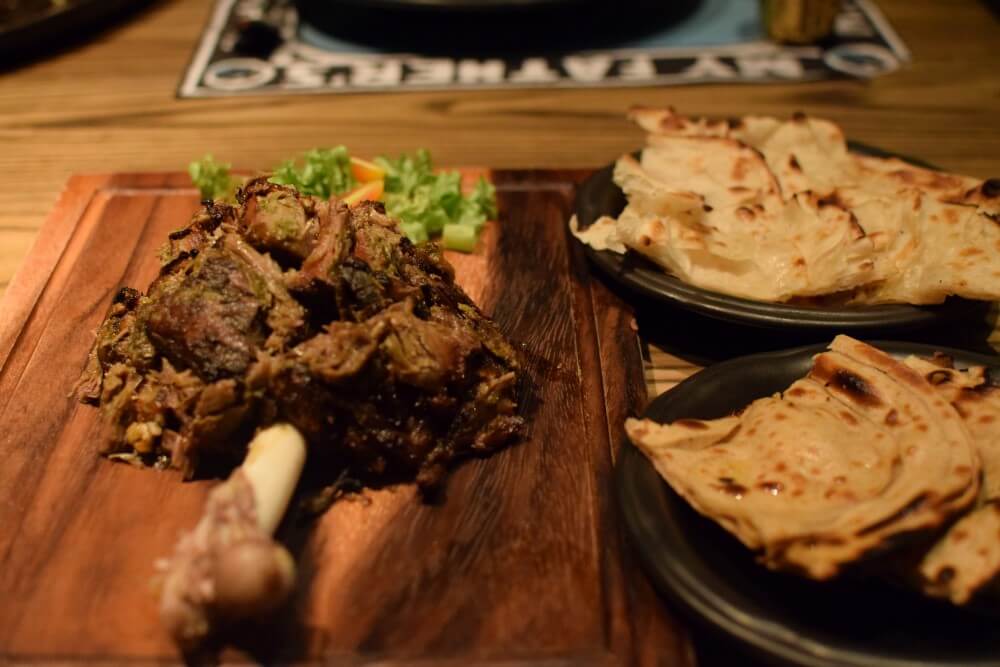 Mr. Vijay told us that Daal Charcoal's preparation need 24 hours, trust me it is worth to give so much time for its preparation, as its taste was beyond words. Turrah-nann is another specialty of Charcoal Bangkok, as it is 16 layered naan (very soft).
Dal Charcoal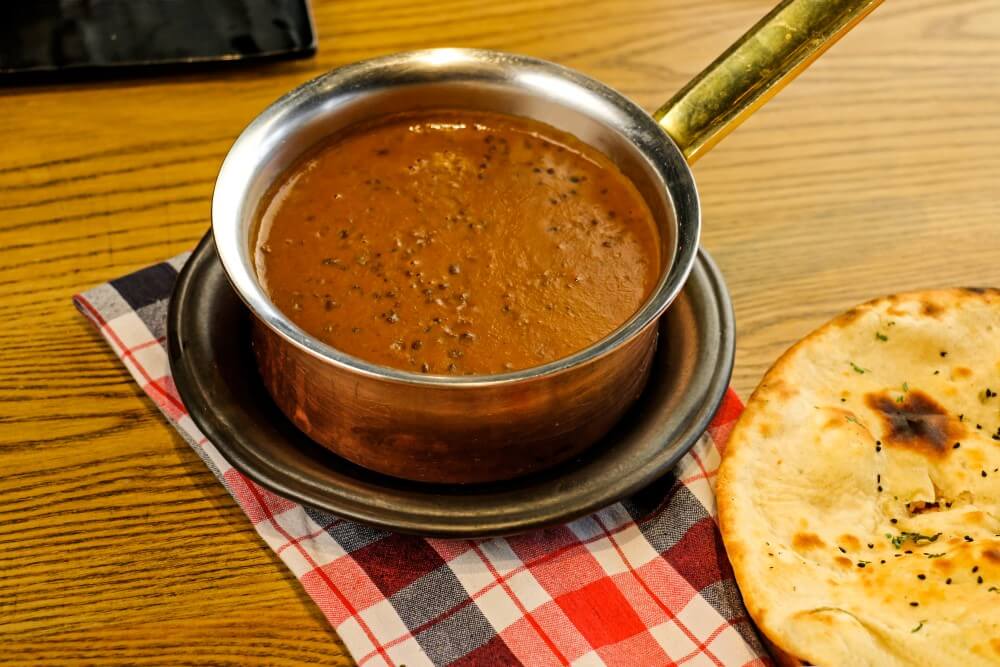 This image is courtesy Charcoal Tandoor Grill & Mixology and they hold full copyright
For desserts we had very creamy and light Phirni (cold rice pudding infused with flavor of saffron and cardamom) with Sahi Tukda means royal bite 😉 (Topped with creamy and delicious Rabri).
Phirni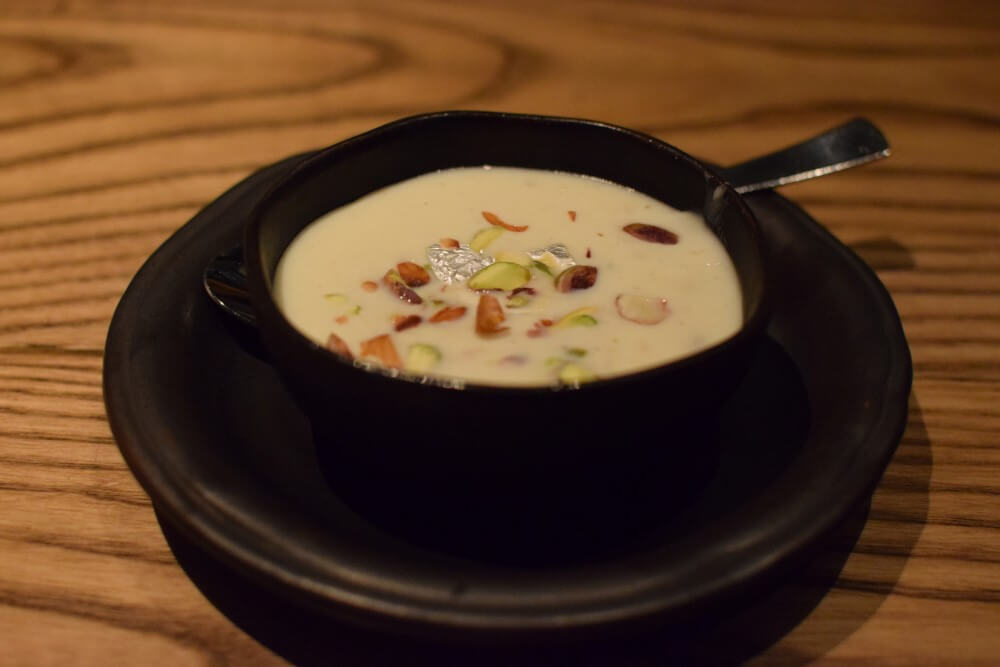 Sahi Tukda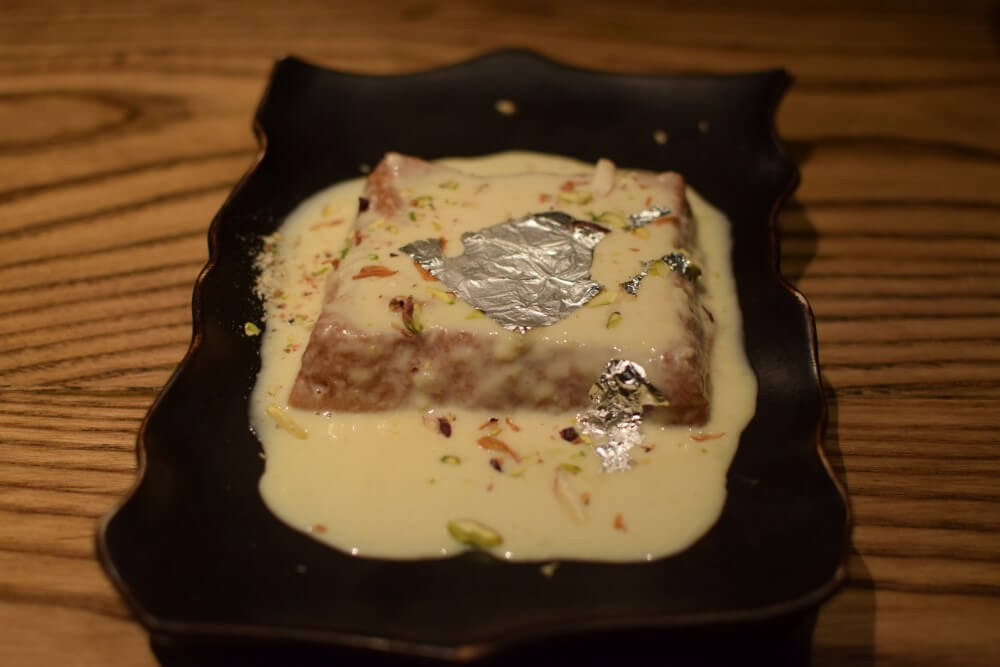 Staff
The staff is very polite and attentive. They are masters in their field. Good to know all are fluent in English. We are highly impressed with the attending skills of Manager Mr. Vijay. He made our experience more wonderful. He is a nice person with vast knowledge of Indian cuisine. He recommended us the specialty and must to have dishes of Charcoal Tandoor Grill & Mixology.
Special Drinks: Charcoal Tandoor Grill & Mixology Cocktails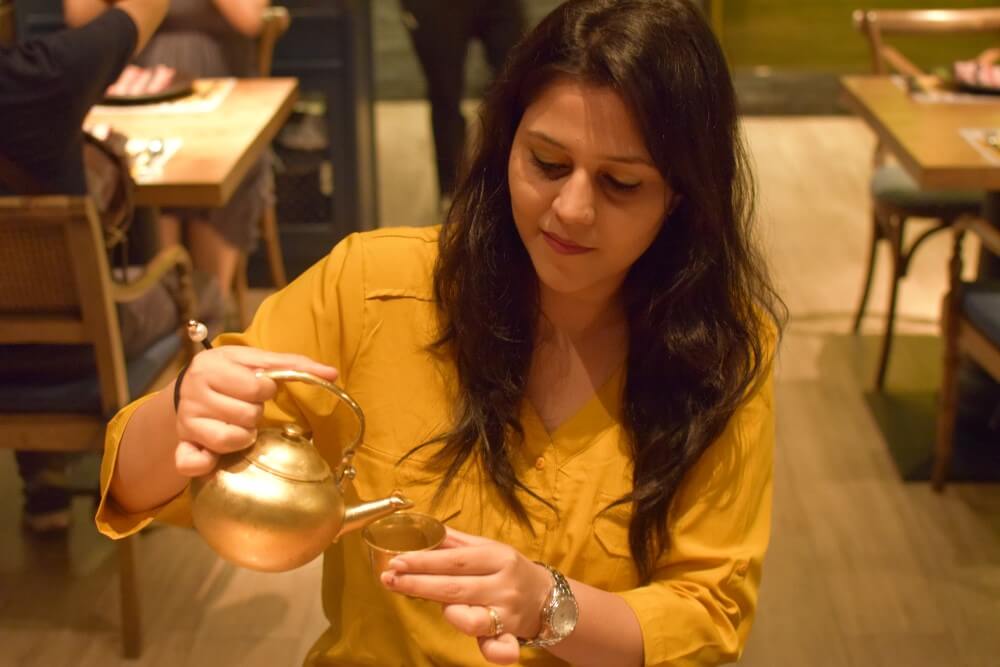 The specialty of Charcoal Tandoor Grill & Mixology is their classic cocktails. These are perfectly combined with the flavorsome kebabs and grills. The cocktail menu is divided into 4 fun categories: Fresh & Refresh, Citrus Puckers, Strong & Spirit-Driven and Finishing Touch. For non-alcoholic they have Easy-Going Mocktails.
Charcoal Mojito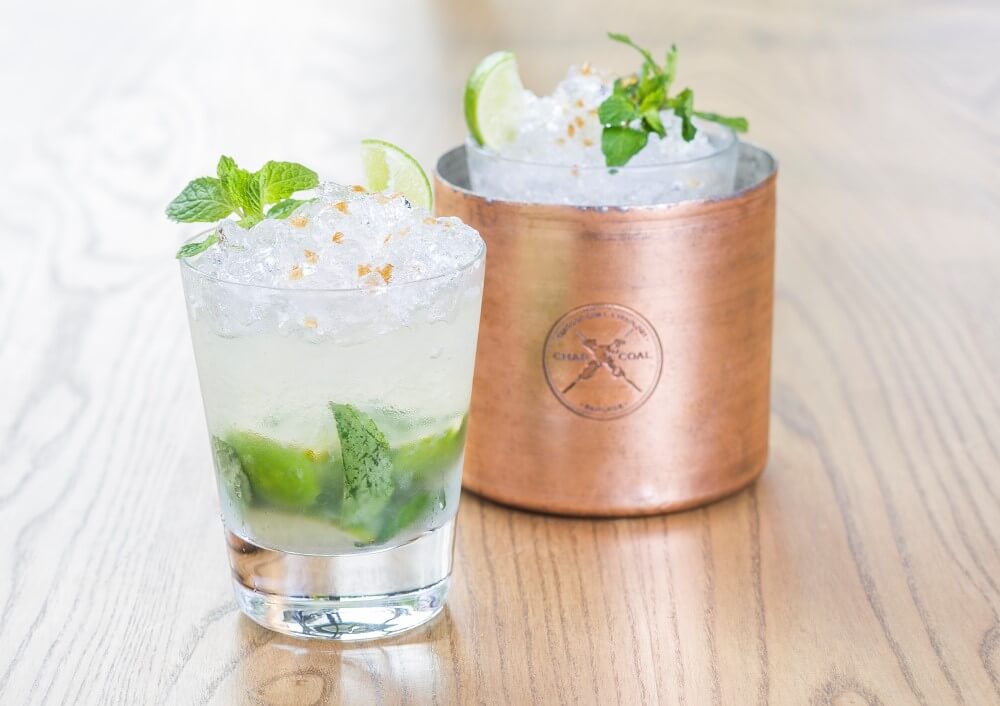 This image is courtesy Charcoal Tandoor Grill & Mixology and they hold full copyright
Charcoal Bangkok present their cocktails in very unique and unusual vessels which turns the experience of drinking into photogenic pictures. The cocktails are mixed with flavoring spices, crafted masterfully which gives sensational taste when paired with kebabs. They are deigned perfectly to balance each other.
The presentation is really an add-on and wow factor in Charcoal Bangkok. Even the names of the cocktail have some surprise hidden element.
We had New Delhi Duty Free + Mint Chutney Mojito + Mystic Tea Pot.
These all were unique and infused with perfect ratio of spices. The presentation was bang-on!
New Delhi Duty Free cocktail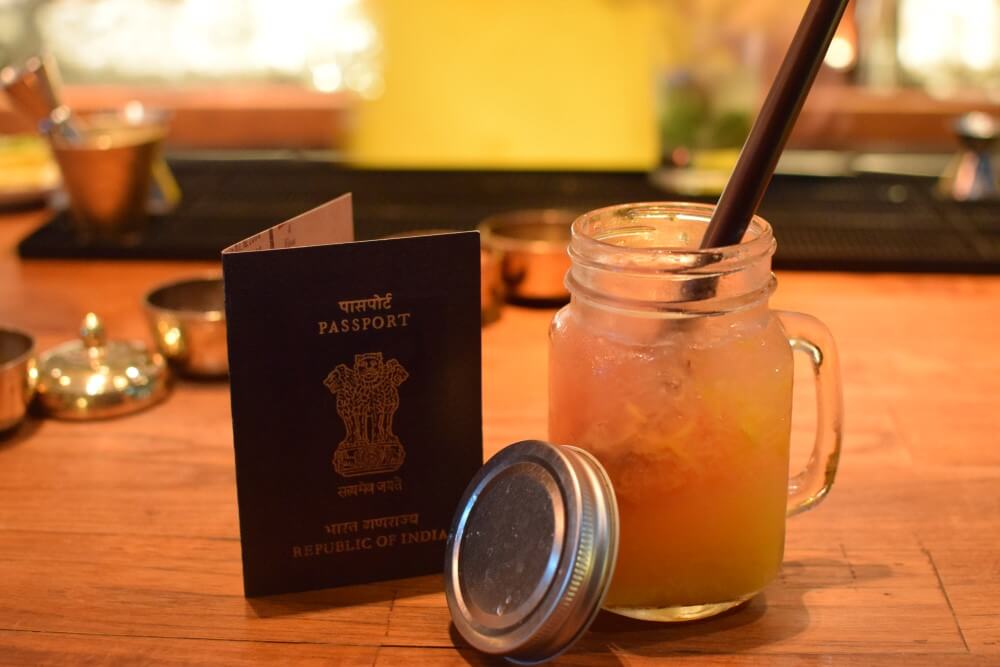 Mint Chutney Mojito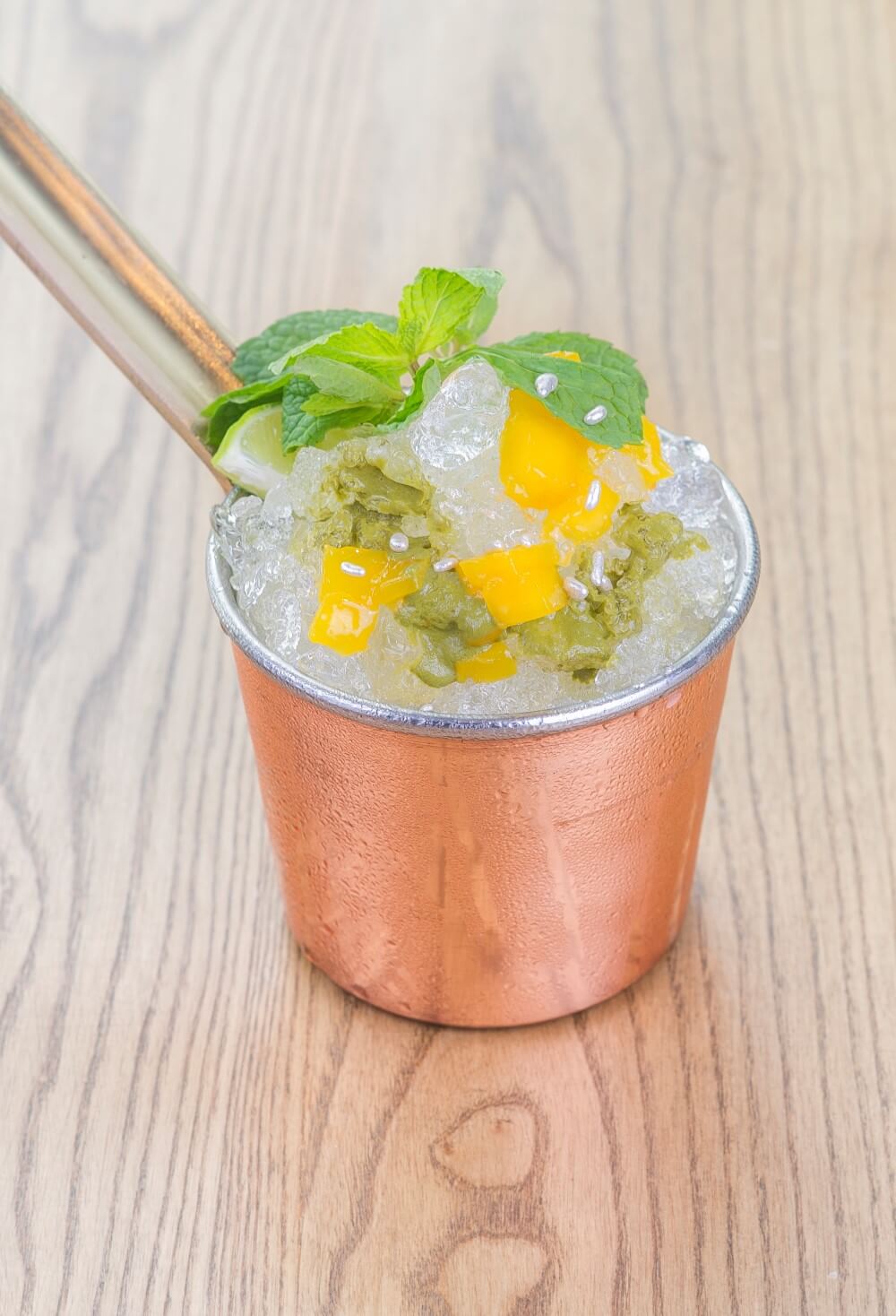 Picture Credit : Charcoal Tandoor Grill & Mixology
Mystic Tea Pot cocktail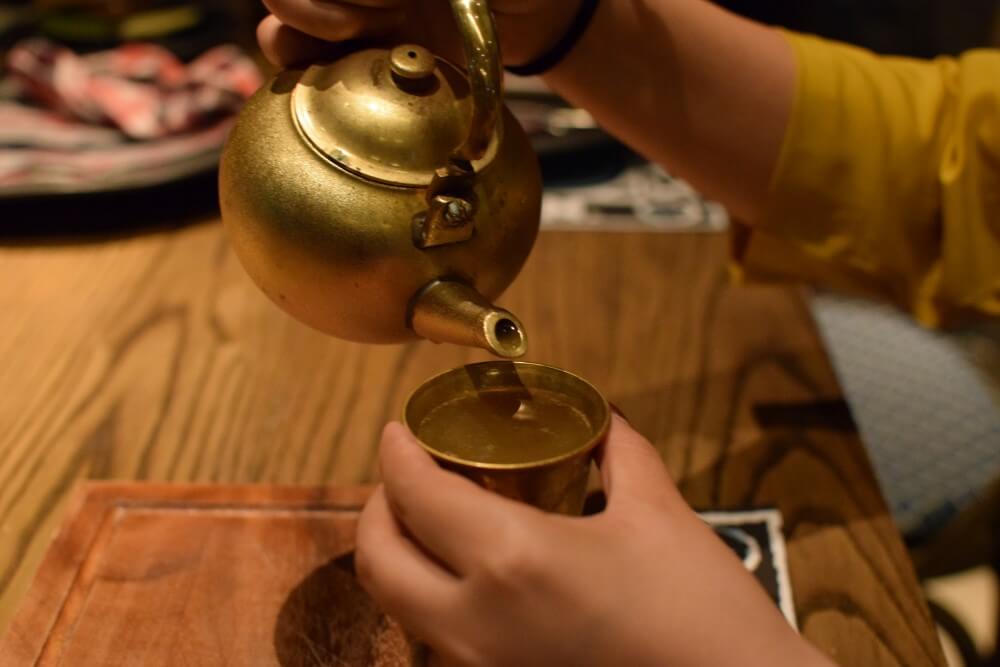 In addition to this Charcoal Bangkok serves international wines by the glass and bottle from the selection of bar.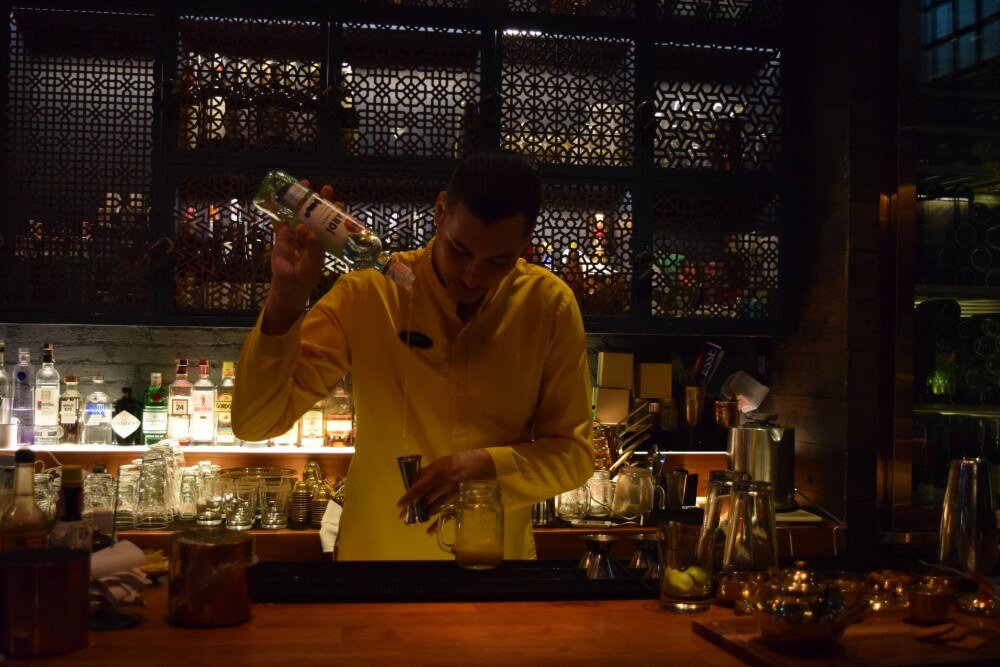 Charcoal PAAN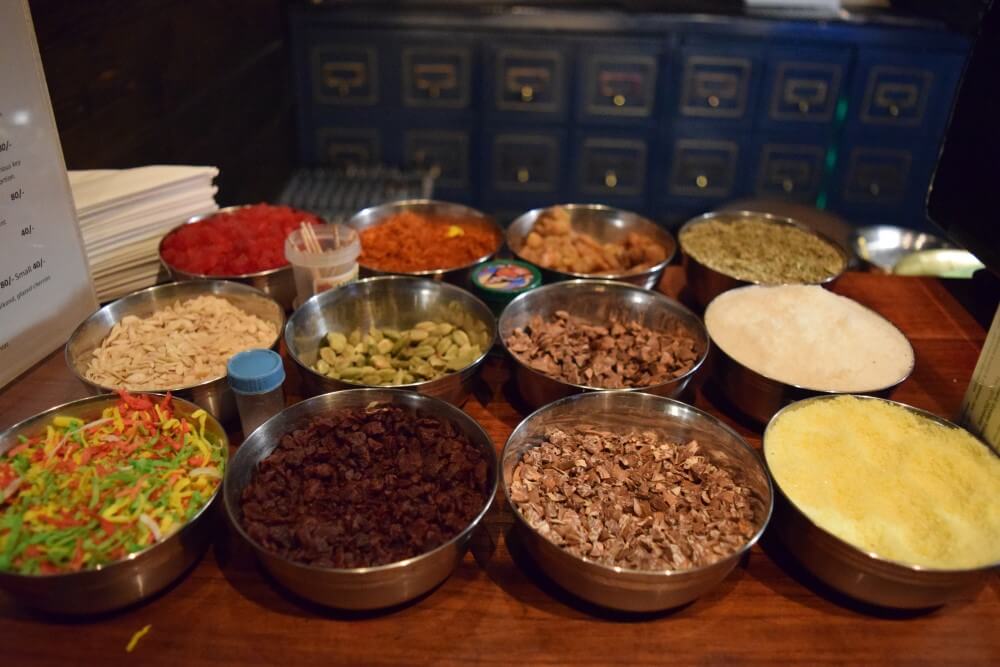 We think Only Charcoal Bangkok has this delicious paan section. Paan is Betal leaf with coconut, gulkand, sweetened cherry and other fruit and chocolate flavors. It is kind of a finishing touch to Indian meals. They get their pan from the most famous Pan waala of Delhi, Prince Paan.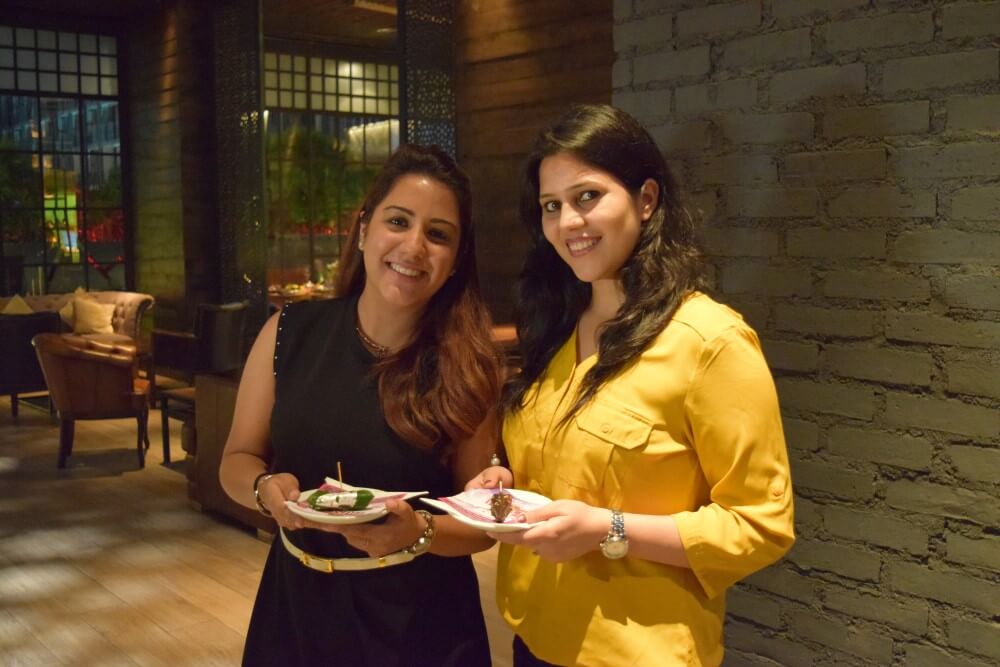 Chocolate Paan

Prince Paan at Charcoal Tandoor Grill & Mixology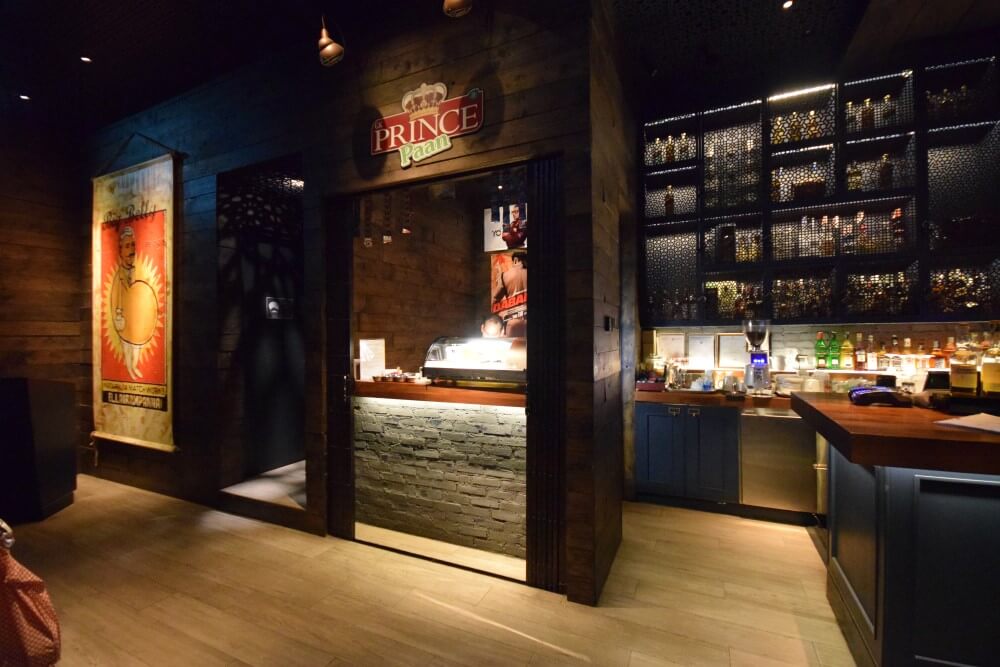 Sunday Brunch
They have newly introduced Sunday Brunch: All you can eat. Each item is freshly prepared and serve to your table, which also include a free Prosecco (as a welcome drink). They have a vast brunch menu. Do try it.
Charcoal Tandoor Grill and Mixology Brunch Menu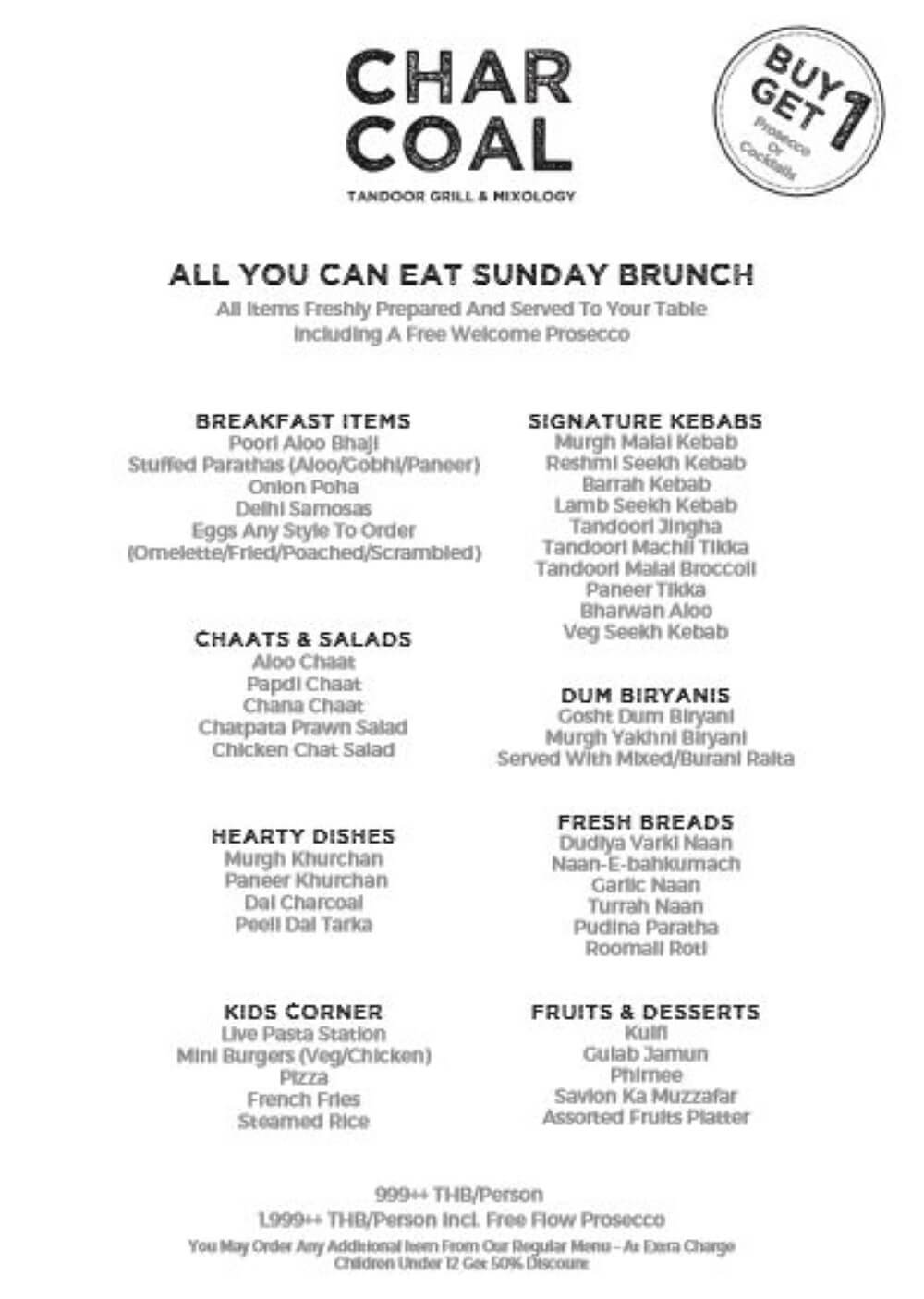 This image is courtesy Charcoal Tandoor Grill & Mixology and they hold full copyright
Conclusion
The Charcoal Tandoor Grill & Mixology has undoubtedly awesome kebabs and grills. The restaurant definitely has something unique to present on your table, which will make your Indian dining experience more extravagant. All the food they served has sensible and balanced amount of spices. Visiting to Charcoal Bangkok will be a fun dining for you. We will definitely re-visit to enjoy some more of their innovative cocktails along with kebabs.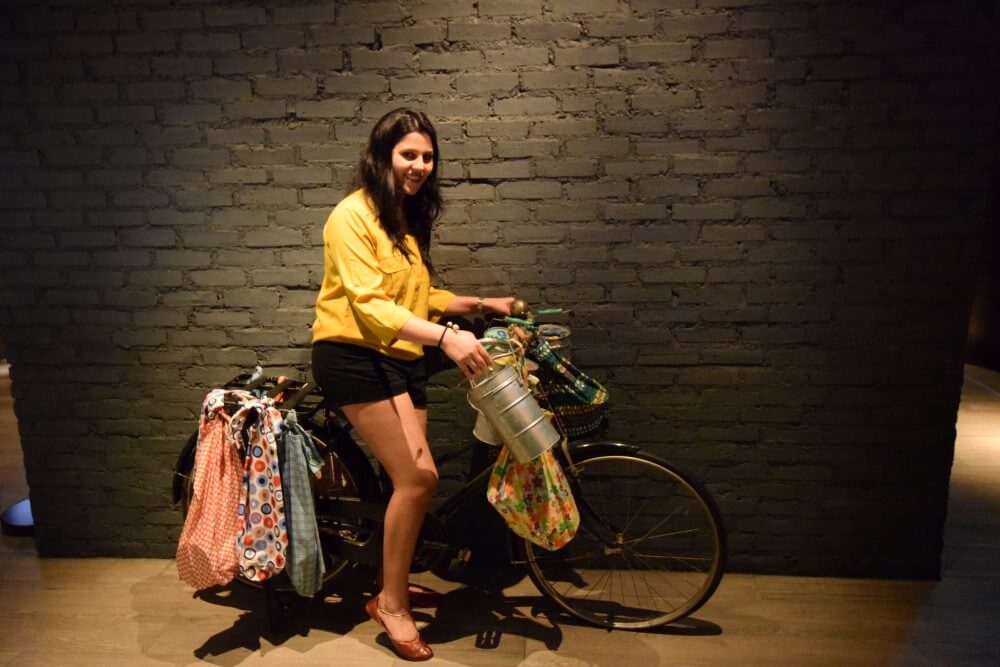 For more pictures follow us on Instagram
Check out more food story in our food section.
Disclaimer : This post is in collaboration with The Charcoal Tandoor Grill & Mixology Bangkok but we own all the views and opinion to bring out the honest review for our readers.