Halong Bay Cruise are the most visited cruise trips in South East Asia. The Bay is situated in north eastern part of Vietnam. It is popular because of its extraordinary beauty, hundreds of rock formation and beautiful caves. Therefore it is a popular spot among tourists for lavish cruise trips.
 How to Reach     Where to stay       Things to do      Food Options      Saving tips
How to Reach Halong Bay
There are two options to reach Halong bay. One is the bus, other one is the private taxi. Both of these options can be arranged by the Cruise companies and tour operators. It takes around 4 hours from Hanoi to reach Halong bay.
Halong Bay is accessible from every part of country.
1. Many tourist visit Halong Bay on an international cruise ship which dock in Cai Lan International Port which is about 10 minutes from Halong Bay.
2. Most people book Halong Bay Cruise from Hanoi (capital of Vietnam) which is very well connected to all major countries and flights. From there cruise companies picks you in a bus usually included in Cruise Package otherwise they charge around 25$ per person. Private taxis are also arranged starting from 100$. In our case we chose the shuttle bus which was included in the cruise price.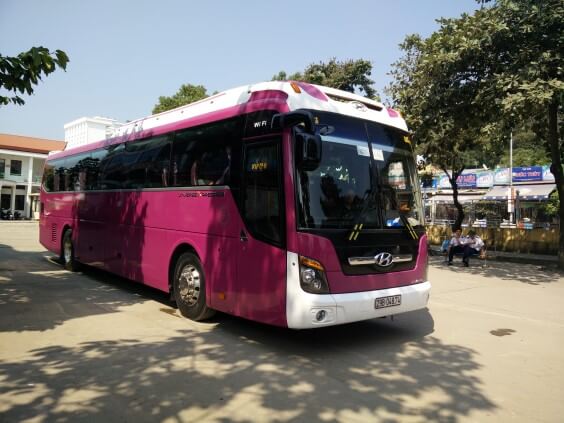 Where to Stay in Halong Bay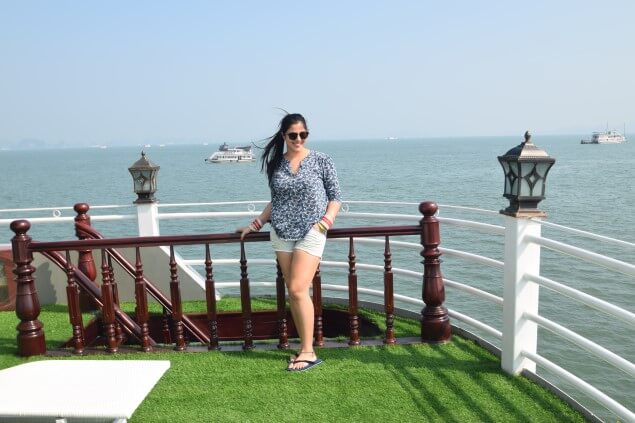 There are many hotels on the bank of Halong Bay. But it is best seen on a cruise. If you have booked a cruise before on Halong bay than you understand the pain of finding the fantastic cruises with value for money. There are many options for halon bay cruise ranging from 2 star junk boats to 5 stars luxury boats.
We stayed in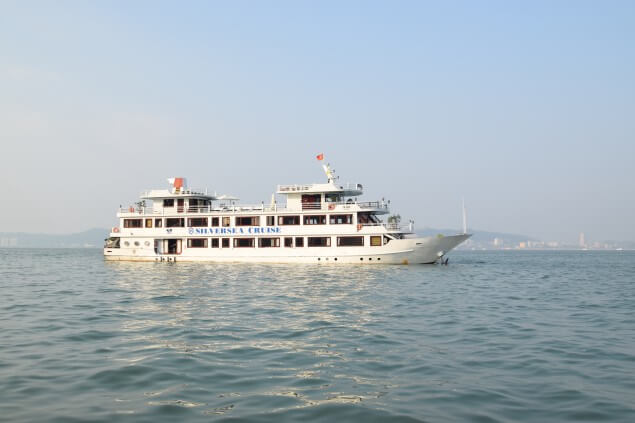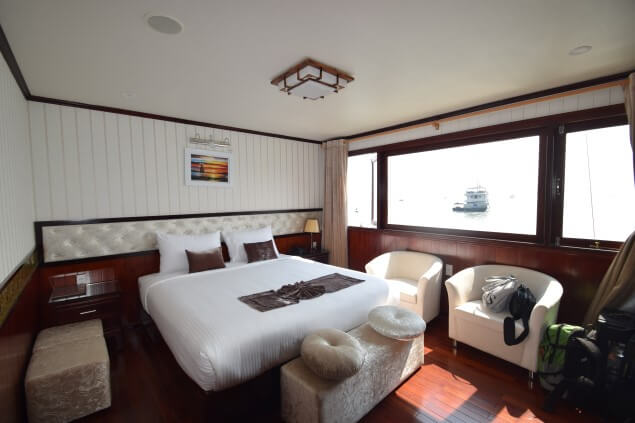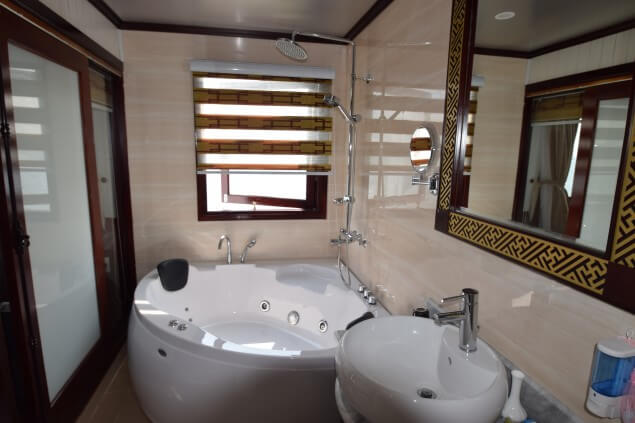 Silver Seas Cruise is a new and elegant cruise. Our room had a huge window with a beautiful view (dream to wake up to this view) I think all the rooms have same view. Bathrooms were neat with super sexy bath tub. The upper deck of cruise had green artificial grass in combination with white sun bathing chairs. The view of the Halong bay was mesmerizing. The crew and captain of cruise were very friendly and smiling.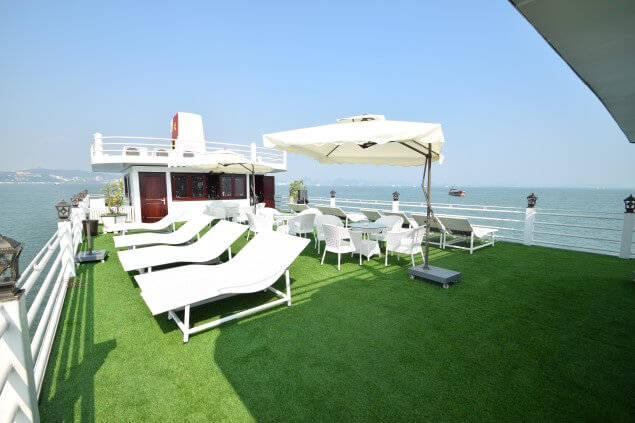 Food was extremely delicious and hygienic, you will feel overloaded, and they have a wide variety of Vietnamese food and western food especially non vegetarian. But as I am vegetarian and on my special request they catered me very well with wide varieties of vegetarian dishes.
Other cruises which we liked during our planning were
Huong Hai Sealife Cruise
Royal Palace Cruise
IndoChina Sails Cruise
Halong Bhaya Cruise
Cost of Halong Bay Cruise for 2 days 1 Night Package : Silver Seas Cruise



Itinerary Of Halong Bay Cruise Trip for 2 days and 1 night
Day 1
We were picked from our hotel around 8 a.m. in a shuttle bus. Our tour guide picked 15 more people from Hanoi, which took around 1 hour. Journey was overall very smooth but there was a patch of road for few kilometers which was bumpy.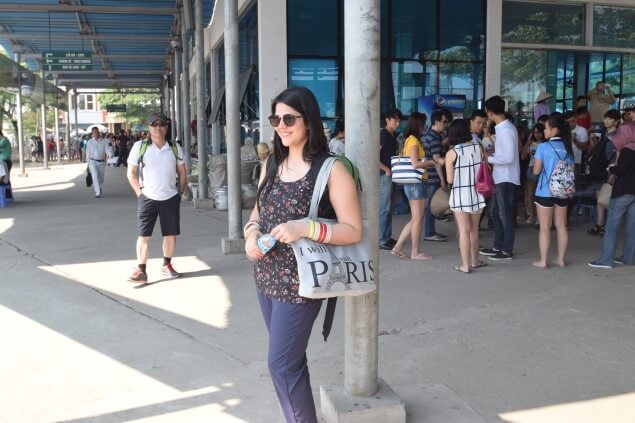 Around Noon We reached Hongai pier port, from where we were transferred in a small boat to board to silver sea cruise. At cruise the Crew welcomed us and helped in check-in our rooms.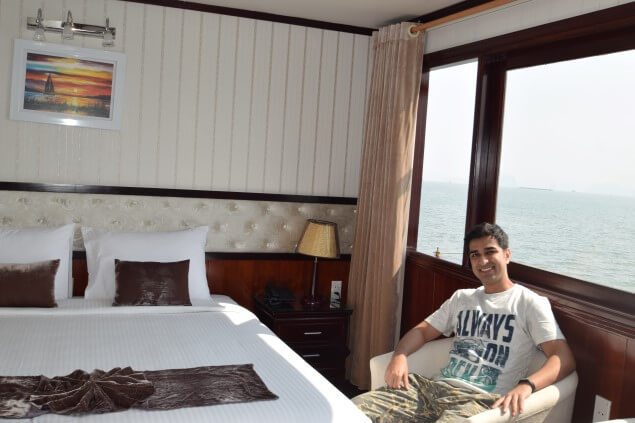 Room was fabulous and bathroom had huge bath tub. The Views from the room were great. We can see the rocks and other cruise ships passing by from our room window.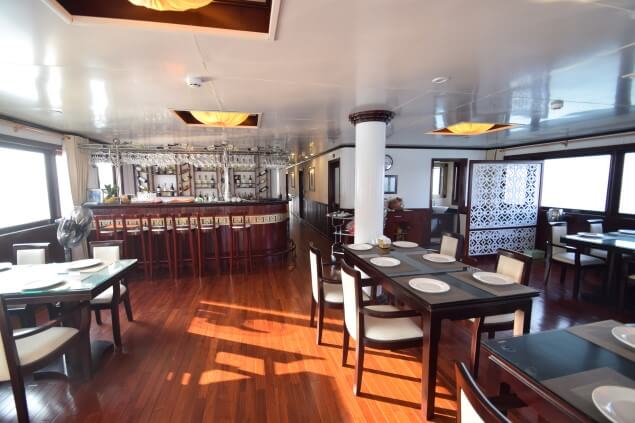 After some rest we were called for lunch at around 1:30 pm. We had our lunch while cruising and sailing through the beauty of bay.
Around 3:30 pm we were shifted through a small boat to a floating fisherman village and performed few activities like fishing and boating around the village.
At 5:00 pm We went for Swimming at Soi Sim beach. After coming back to cruise we were asked to gather on the upper deck where crew had organised sunset party. It was delightful and romantic atmosphere at sundeck of cruise. They offered us complimentary cocktail and fresh local fruits. While listening to light music we enjoyed sunset.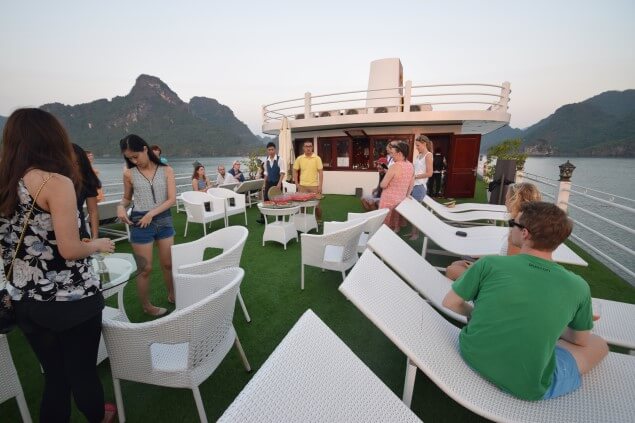 Our dinner was arranged in dinning hall around 7 pm. They end dinner with Vietnamese banana desert. After dinner we gathered for group activities like squid fishing, karaoke and dancing, it was lots of fun. And the big day ended with a romantic and relaxing sleep in our luxurious room.
Day 2
We woke up early around 6 am to take photographs of picturesque scenic view of sunrise. After which we had a perfect healthy start of day with Tai chi exercise and kayaking.
Around 7 am we were served breakfast along with tea, coffee, juice and traditional pho soup.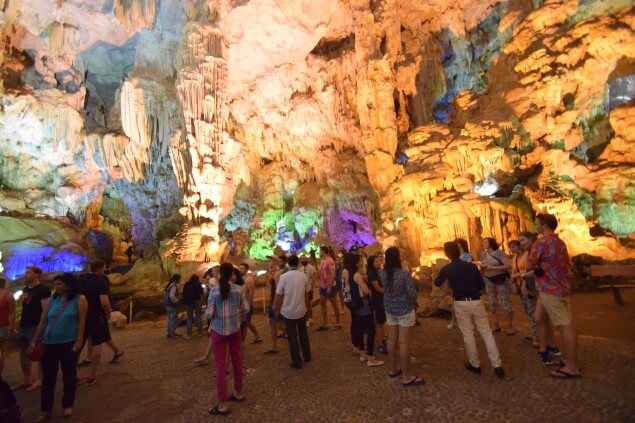 After an hour we were transferred through small boat to visit the limestone cave.Cave was spectacular and one of the kind. It was huge. Our tour guide told us many stories related to cave while we were exploring it. I knew nothing was true but I found it interesting to listen.
At 9.30 am We were back to the cruise and this was check out time from our rooms. But we were still on cruise in living area and on deck.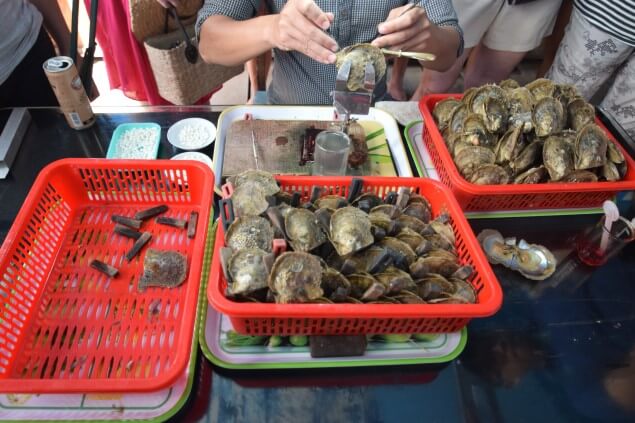 After that we went to visit floating pearl factory and saw formation of real pearl which was a good experience to watch. Around 11 am we came back to cruise where cooking class was arranged to teach us the preparation of Vietnamese spring rolls. After that we were served with Farewell lunch.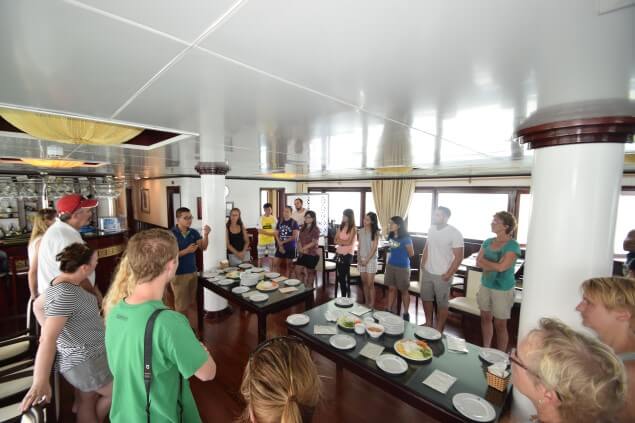 At noon we left from Halong Bay Cruise after capturing so many beautiful memories for Harbor in small boat. From there we hopped on to the bus and reached Hanoi at 5 pm and Checked-in our Hotel Art Trendy
Things to do in Halong Bay
Halong Bay is very beautiful with breathtaking views. There are plenty of things which you can do in the bay.
Floating Village and Kayaking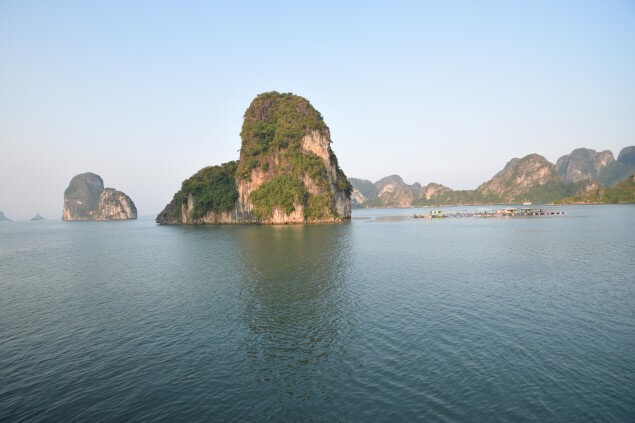 Cruise takes you to closer look to limestone formations
There are around 3000 of limestone which looks stunning. No words to describe their beauty.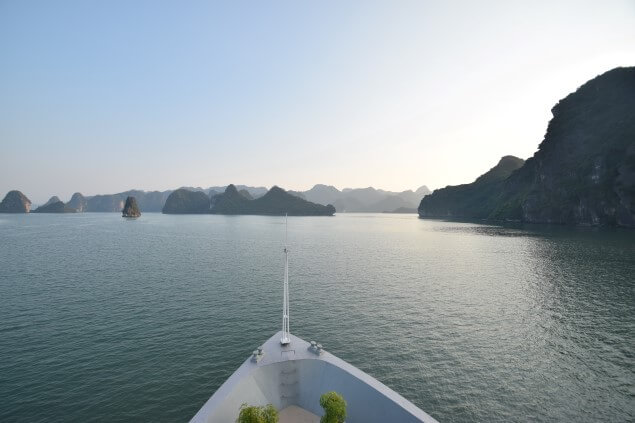 Sunset view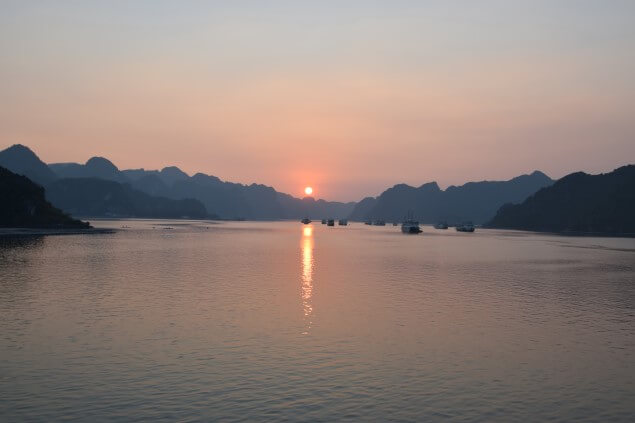 Dua Go Cave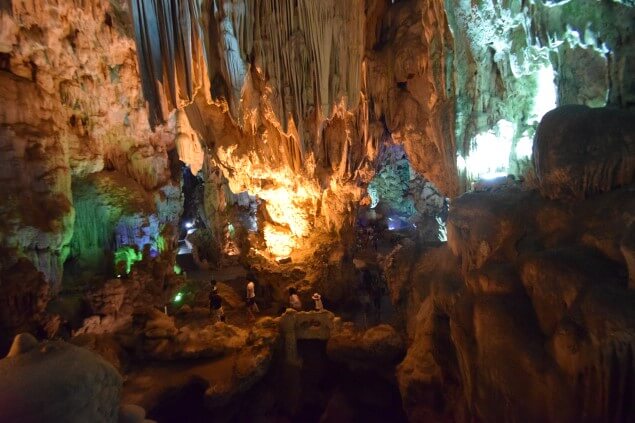 Floating Pearl Factory
Tour guide will take you to the floating pearl factory via small boat. There you can see each and every phase of formation of real pearl which is a nice experience.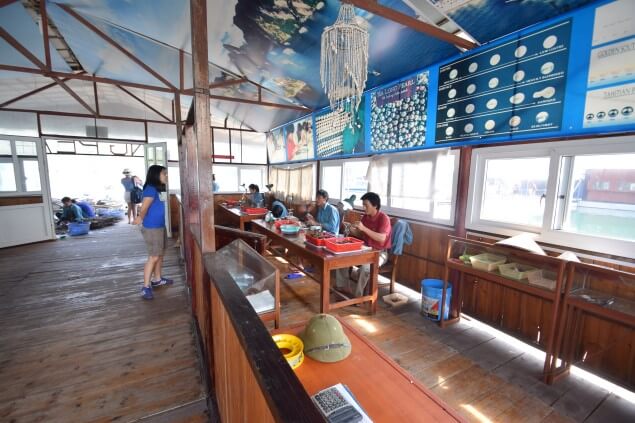 Food Options
We had most of our meals at cruise. They served us very hygienic Vietnamese cuisine with English breakfast and one evening drink. They have food for both meat lovers and vegans so don't worry if you are vegan like me.
Saving Tips
• If you are only looking for day trips than don't book online. You can always compare prices among various operators.
• While booking halong bay cruise always crosscheck prices on their websites and the ones on the OTA's.
• Better cruise gives you better service. Stick to 4 and 5 star cruises if you want to enjoy the view with luxury.
Total Cost for Halong Bay Cruise for couple
Cost : Approx 260-275 $