Krabi is one of the most vibrant tourist destinations in Thailand. It is a coastal province on the western coast of Southern Thailand and is 783 km south of Bangkok by road. Krabi travel guide for Indians will cover everything from how to reach, Visa information, Airport guide, Shopping, Where to stay, transport within city, Things to do, What to eat etc. everything you need to know about Krabi.
The beauty of Krabi lies in stunning limestone cliffs, shiny white sand beaches and superb waterfalls. It is widely regarded as one of the most beautiful places in Thailand. As well as beautiful and relaxing scenery, Krabi offers an adventure playground for those who like to get "something extra." Kayaking, sailing, snorkeling, island hopping, sightseeing and many more.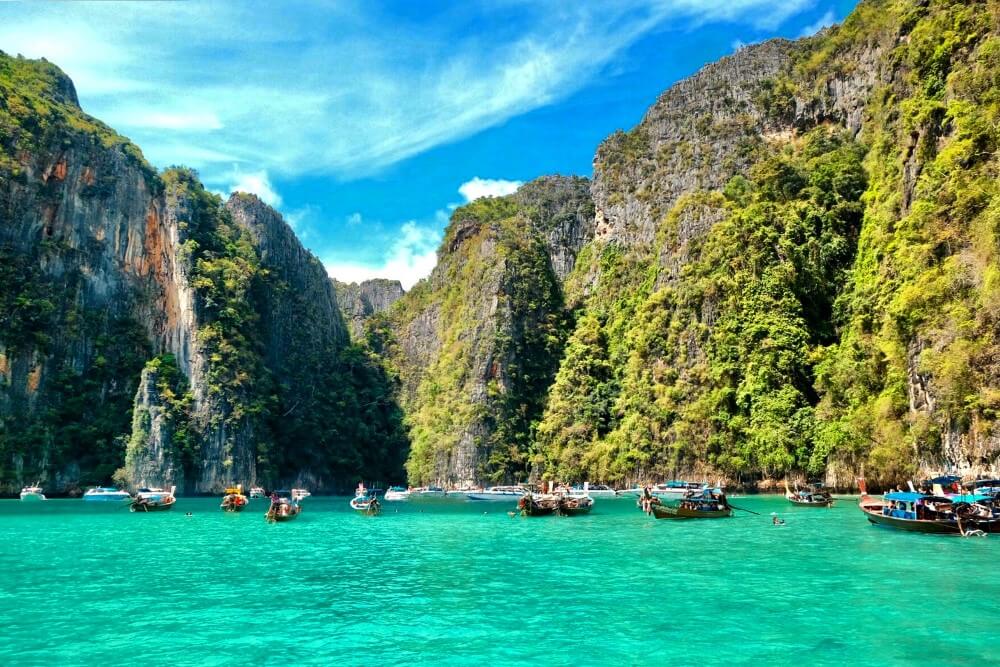 Visa Information : Krabi Travel Guide
Visa on Arrival
For the Citizens of India who want to visit Thailand for a period not exceeding 15 days can avail Visa on Arrival from designated checkpoints at the airport Thailand. Visa on Arrival fee for the application is THB 2,000. (Thai Currency only).
Tourist visa for Thailand
For the Indians who wish to visit Thailand for more than 15 days have to get their visa in advance from Thai consulate in India. This Process is managed by VFS in India. For a limited period till August 2017 it's free for Indian tourists, Afterwards Tourist Visa (Single entry) is INR 2,000 (permitted to stay for a period not exceeding 60 Days in 3 months). Tourist visa (Multiple entry) is INR 10,000 (permitted to stay for a period not exceeding 60 Days in each entry for 6 Months).
To know more about the Visa Information for Thailand in detail, you may check our Bangkok Travel Guide.
When to visit Krabi : Krabi Travel Guide

Krabi has a tropical monsoon climate. It's warm all year 'round, but the two periods of April-May and September-October are the hottest.
• November – February (High Season / Less Humid): During this time of the year, Krabi weather is remains mostly pleasant. Therefore, this is the peak tourist season. All the beaches and other tourist attraction are packed with visitors. You can also get drizzle (short rain) on some days. Note: Try to make all your bookings in advance because places get sold out and prices tend to rise.
• March – June (Hot Season / Extreme Humid): This duration of the year is quite hot and humid. This actually doesn't impact much on tourists, Krabi has good footfall of visitors during these months as well. The beaches remain busy but aren't as crowded as during peak season.
• July – October (Wet Season / Rainy): This is the quiet time in Krabi. Less tourist due to rainfall and humid weather. It rain almost daily, during the late afternoon for an hour or two. But for Rest of the day you can enjoy. It is overall less crowed than high season. The hotel prices naturally becomes cheaper.
Airport Guide : Krabi Travel Guide
You can find information about reaching your accommodation from Krabi Airport in our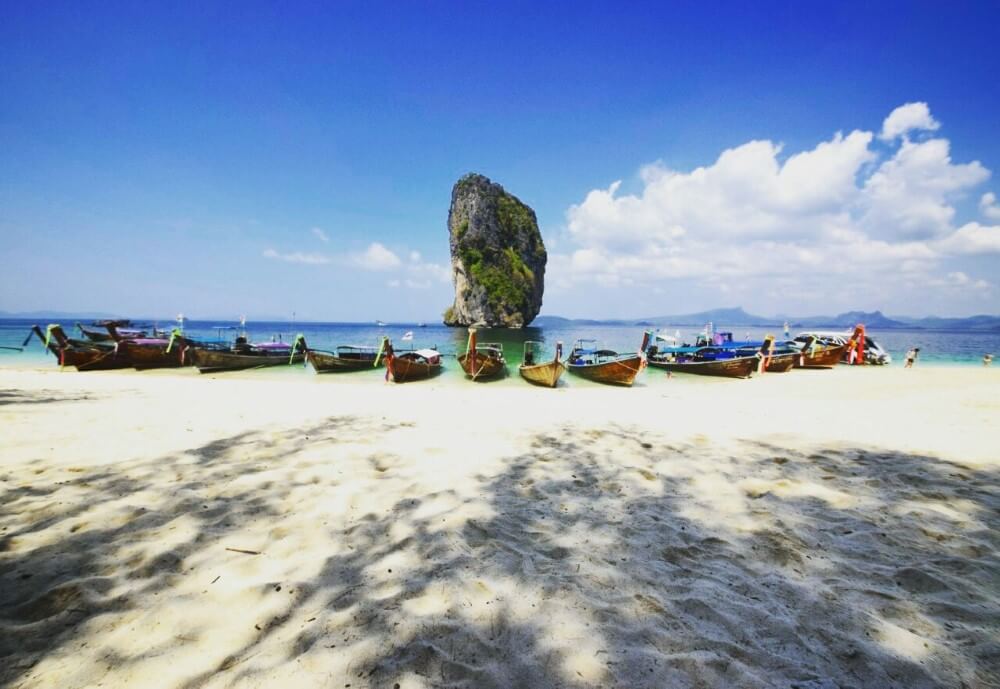 Where to Stay : Krabi Travel Guide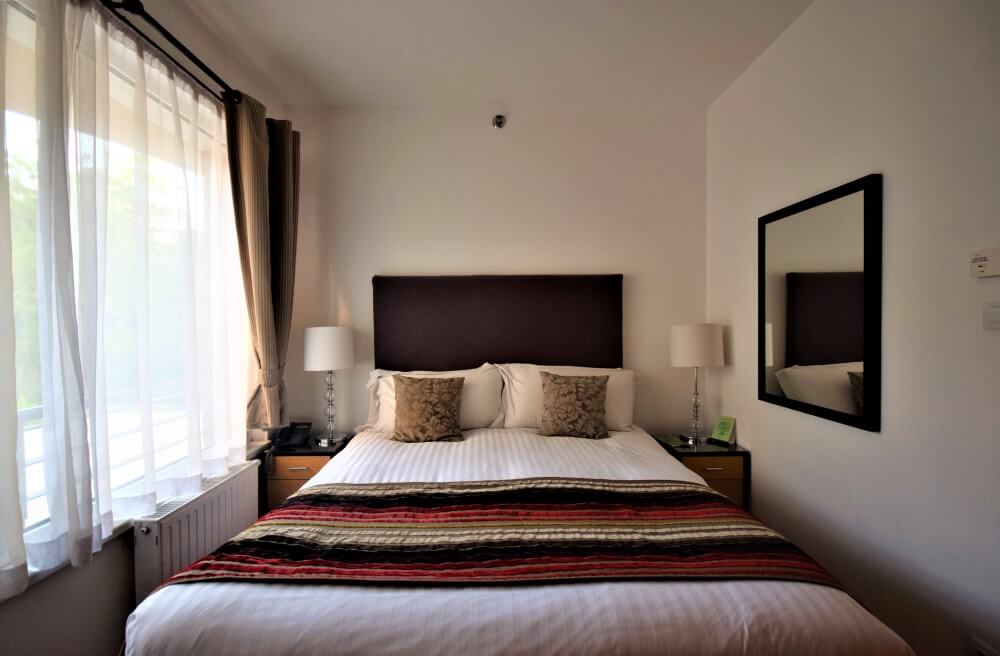 The area is being carefully developed with no real high rise hotels. There are wide range of places to stay from small bungalows to the prestigious five star resorts. Most accommodation are located around beach areas of Ao Nang, Railay and Phra Nang with some small local hotels in the Krabi town.
Top 5 luxurious hotels in Krabi
Top 5 Budget Hotels in Krabi
Top Things to do in Krabi : Krabi Travel Guide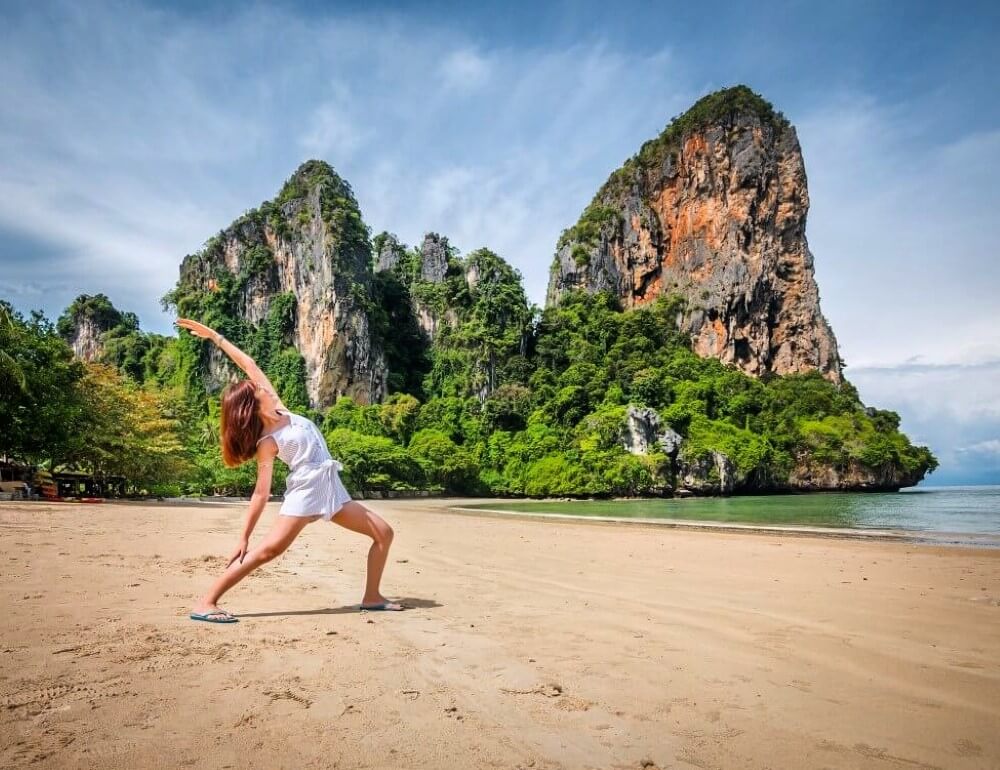 Krabi is relatively unspoiled and untouched destination, which makes it more charming. There so many things to do in Krabi which varies from travelers choice. It is packed with adventures sports, water rides, island hopping etc. but one of our favorite activity in Krabi is to sit and enjoy few of the best beaches of Thailand. Below are the list of things to do in Krabi.
Stroll along Ao-Nang Beach
The Ao- Nang beach is less commercialized, significantly there are less tourists. It is more peaceful to relax. The water is shallow at this beach, therefore it is perfect for children. If you are looking for some nightlife and a lively atmosphere than this is a good place. Ao-Nang is packed with fancy bars and tempting restaurants.
Railay Beach and cave
Potentially it is the most attractive beach in Thailand. Railay beach is only accessible by sea and it is just 15 min boat ride from Ao Nang Beach. It showcase a perfect landscape, you will find floating limestone cliffs, caves, gorgeous white sand beach and hidden lagoon inside the cliffs.
Krabi 4 Island Tour

This is very popular among Krabi attractions. Most of the tourist go for Four Island tour. The tour guide usually includes Tup Island, Phra Nang Cave, Chicken Island, and Poda Island. This island hopping is via long tail boat, which stops at each destination giving you time for lunch, sunbathe, swimming and for exploring the island.
Rock Climbing
Climbers from around the world come to Krabi for rock climbing. There are plentiful of limestone cliffs in this area. There are schools for beginner climber which is much safe. For experienced climber there are many options (more than 700 climbs) available in Krabi.
Rent a Bike: Go explore Krabi town
Yes! Rent a bike and get lost in the town of Krabi. Go explore the small streets, they will take you to jaw dropping views. There are lots of off beaten tracks waiting to be discovered around every corner. You can follow the coast road along Klong Muang and TubKaek beaches, it will head towards picture postcard views, and you can stop anywhere and walk down to the beach. Note: You should also use GPS to find nearby attractions.
Krabi to Phi Phi Day Tour by Speedboat

It is the most popular among the list of Krabi Attractions. After being filmed in the movie "The Beach", tourists never stopped coming to Phi Phi islands. It has become one of the most crowded beach. If you are planning to take a day trip to these islands than start early as it gets very busy. Phi Phi Islands includes Phi Phi Leh and Phi Phi Don. Both the beaches are fantastic with bobbing long-tail boats and sparkling white sand. The emerald green water attracts thousands of tourist for snorkeling and other water activities. You can have a speed boat tour from Krabi to Phi Phi Islands which also covers Maya Bay, Bamboo Island, Monkey Beach, Viking Cave, and James Bond Island in Phang Nga National Park.
Dip At Klong Thom Hot Springs
The environment is very relaxing and certainly unique. Imagine sitting in a stone bath tub surrounded with rainforest. The sensation of a dip in hot spring is very peaceful. Dip and treat yourself by taking hydrotherapy bath. The water temperature is around 35-45 degree Celsius with natural minerals and salts. Hot spring is located about 70 kilometers from Krabi town in the jungle and is close to the Khao Phra Bang Khram Nature Reserve.
Tiger Cave & Emerald Pool Jungle Tour

Emerald pool resides in Thung Teao Forest National Park. It is also known as Crystal pool. The water is wonderfully warm and crystal clear. It opens every day. It is one hour drive from Ao- nang.
Note: Bring mosquito repellent, if you're planning to walk in the forest.
Admire the Beauty of Phra Nang Beach
Phra nang is not only the most beautiful among Krabi attractions, it has also marked its place in "10 most beautiful beaches in world". It is only reachable by long tail boat and is just 20 minutes from Ao- Nang beach. It has admirable scenery. The beach has perfect white sand and huge cliffs at each end. There are no expensive water activities, it is a perfect place to swim and relax.
Krabi Mangrove Kayak Trip

Snorkeling and Kayaking: Get into water
Snorkeling, Kayaking, Scuba diving are very popular among tourists. It is best to go with a tour guide to know which areas are safe. The water is crystal clear at Krabi and neighboring beaches, therefoer these are perfect for swimming and other water related activities. You can book four island tour along with any prefered activity.
Watch beautiful sunset and Relax at Beach
Sunset and Sunrise at any beach is real pleasure to watch. Aura at this time is magical and magnificent. The best thing you can do in Krabi is relaxation. Go to the beach, sit under tree, take a walk in white sand, do people watching or just lie down and completely relax, the way you want.
Let's Relax Spa Krabi Packages

Relax yourself! No Thailand trip would be completed without indulging in a Thai massage. Get some exotic Thai massage that will rejuvenate your holiday mood and all tour stress will disappear. This will make you relaxed and blissed out to enjoy your rest holiday.
Where to Eat : Krabi Travel Guide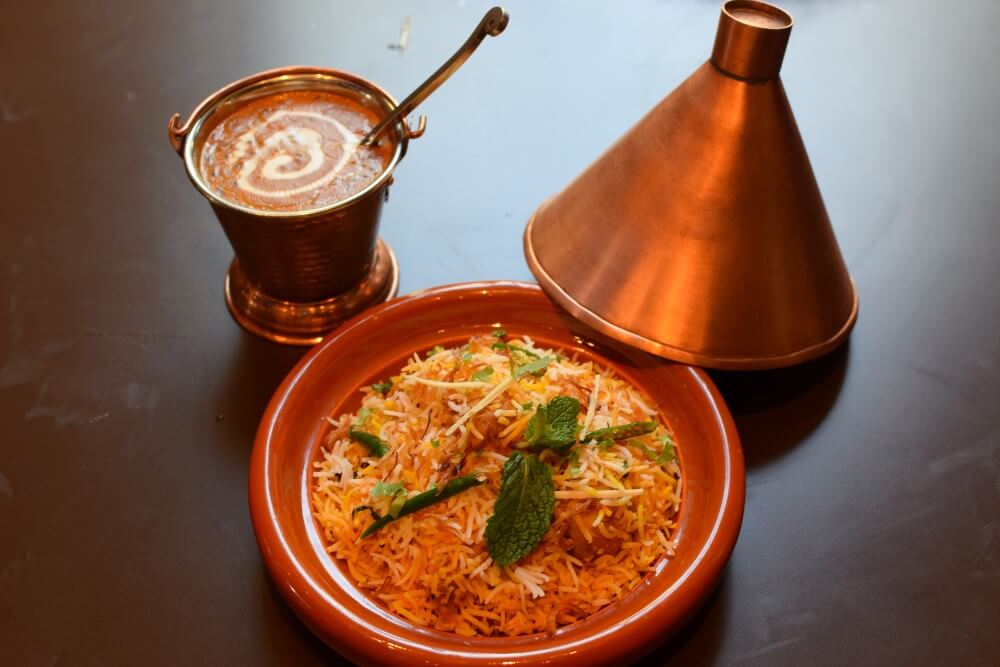 Indian Restaurant
Moti Mahal
Address: Ao Nang, Krabi Town 81000, Thailand
Zaika Restaurant
Address: 411 Moo 2, Ao Nang Beach krabi, Thailand
Bawarchi Delight
Address: 190 Moo 2, 4203 Road, Aonang , Krabi, Thailand
Tandoori Night's
Address: 247/4 Moo 2 Ao Nang krabi, Thailand
White Lotus
Address: 200 Moo 3 T.Nongtalay, Nong Thale, Krabi Town 81180, Thailand
Shopping : Krabi Travel Guide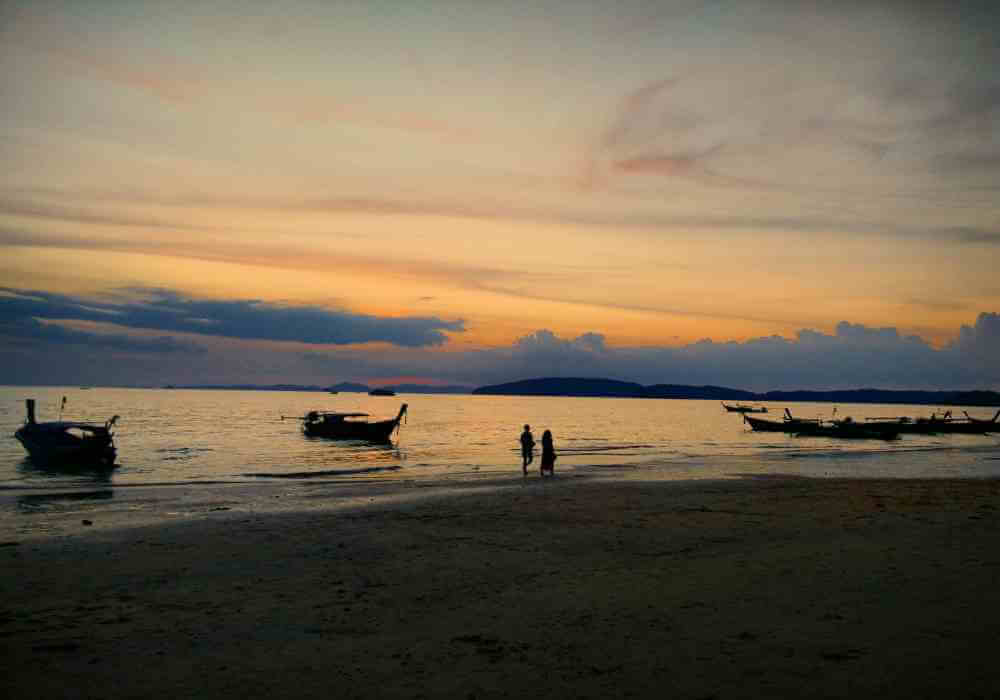 Krabi town has enough shopping options to satisfy most of the basic needs. Check out our top 5 Krabi Town shopping list.
Krabi Town Walking Street
Opening Hours: Fri, Sat & Sun from 17:00-22:00
Location: Soi Maharaj 8, behind Vogue Department Store
Ao Nang's Catalunya Walking Street
Location: at the southern corner of Ao Nang Beach Road
Vogue Department Store
Opening Hours: 09:00 – 21:00
Location: Maharaj Road in downtown Krabi
Maharaj Market
Opening Hours: Daily, best time to visit is from 08:00 – 12:00
Location: Soi 7 off Maharaj Road in downtown Krabi
Railay Walking Street
Opening Hours: 09:30 – 23:00
Location: near Sunrise Tropical Resort
Krabi Airport Road Supermarkets & Shopping Malls
Opening Hours: Big C and Tesco Lotus from 09:00 – 23:00; Outlet Village from 11:00 – 21:00
Location: Phetkasem Road, Route 4 to the airport
Transport within City : Krabi Travel Guide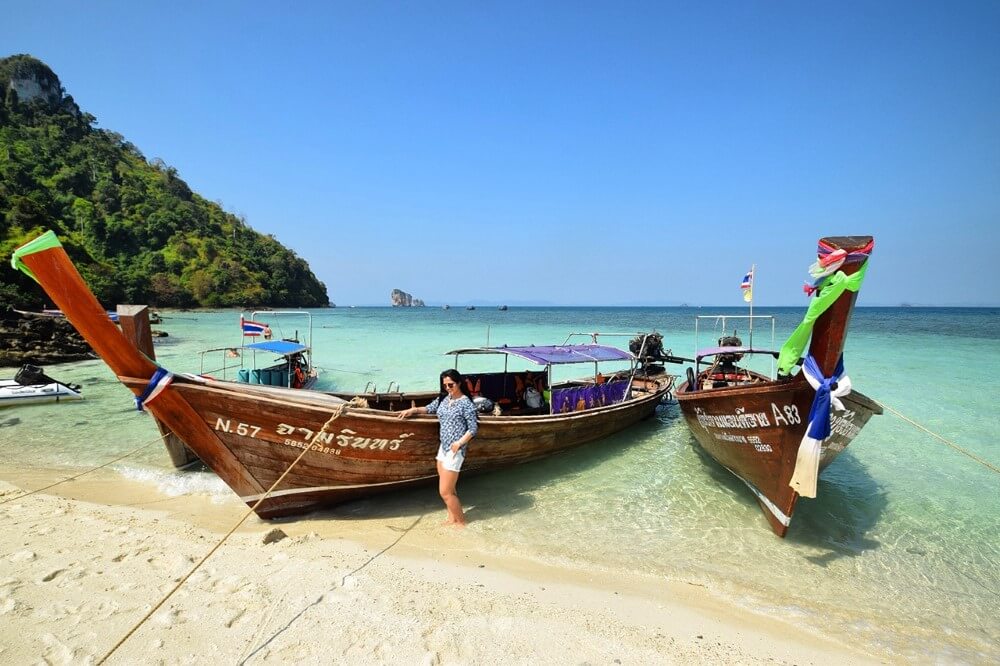 Krabi has a good and reliable public transport system. Krabi supports both land and water transport. There are water taxis on shared and private bases. Long-tail boats for nearby islands, speedboats for relatively far islands and also ferries are available. On land, open air buses, pick-up trucks, motorcycle taxis, all relatively cheap (average 20 Baht for local trips in Ao Nang Beach) run very efficiently and regularly around Krabi town and the beach areas.
Water transport: Long-tail boats, ferries, speed boats
Long tail boat: Local "longtail" boats provide a taxi service along the coast from Ao Nang Beach and other beaches (just go to the seafront) for nearby islands. Fares average around 20 – 30 Baht depending on your destination. The boats offer regular services and are a great way to get around.
Ferries: You can also catch the ferry service from Krabi town to Ko Lanta and Phi Phi Island and Phuket.
Speed Boat: they are also available for relatively far islands. They even provide some good tour packages for you day trip.
Note: Some services stop during the monsoon season (May-October)
City Transport (on land): Local buses, Songthaew, Motorcycle taxis, Regular taxis
Songthaew: They run throughout the day. These are an excellent way of making a day trip into or out of Krabi Town. They have regular stops in between.
Motorcycle taxis: They can easily be found in Krabi Town. They are very fast riders. The drivers will take you anywhere. Note: for the price, it is best to negotiate before you get on.
Regular taxis: You can rent a car or taxi from anywhere in Krabi town. They will charge 600 Baht from Ao Nang to airport, to Phuket for around 2500 Baht. They will take you anywhere and price varies depending on distance to destination.
This is our Krabi Travel Guide which includes everything you should know before you plan your Krabi trip. If anything you want to ask feel free to comment or mail us. We are happy to help.
Hope you liked our Krabi travel guide. To see more of our travel pictures follow us on Instagram.
Tags : Krabi travel guide, Krabi travel guide for Indians, Krabi travel guide for travelers, Krabi travel guide for first timers