This was the best day trip we had so far. We started early for a big day in mountains of "Swiss Alps". Schilthorn resides in Jungfrau region of Switzerland. It is 2970 meters above sea level. It was our, where we had the most amazing and adventurous trip possible from Interlaken. The air was very thin and cold at Schilthorn, where we took the jaw dropping alpine view. This is what we had always dreamt of!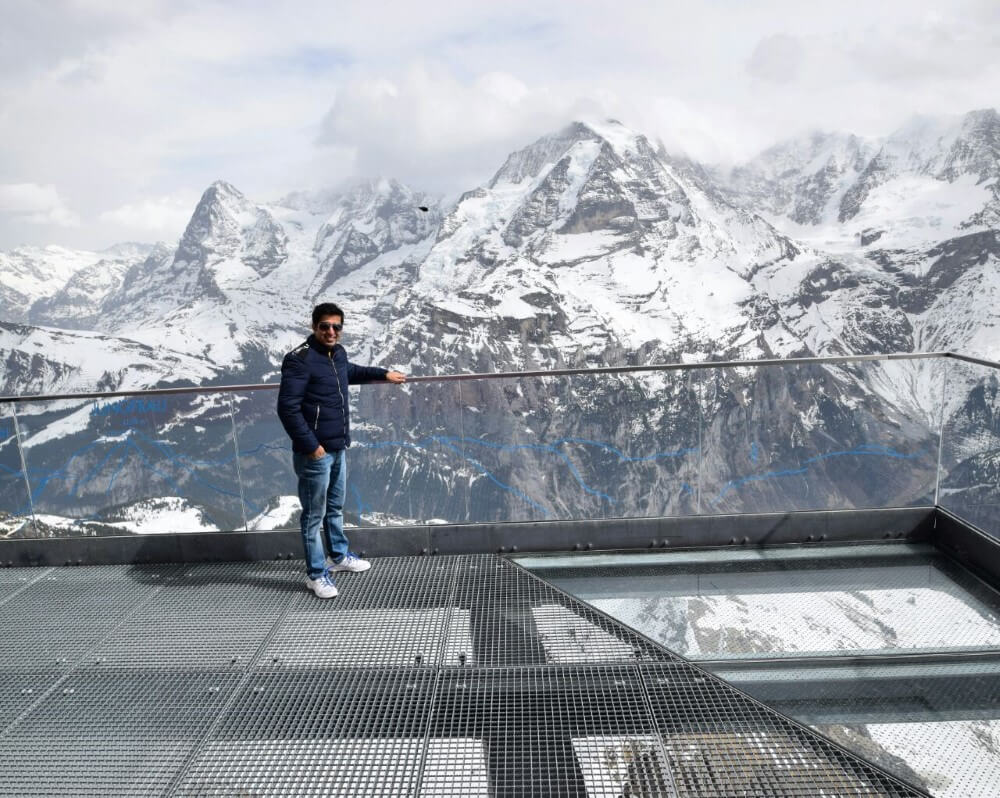 Travelling from Interlaken East Ost Station to the town of Lauterbrunnen. There are some beautiful views on the river while going up through the narrow entrance of the valley. We took our Europe's longest cable car ride in the mountains. The whole experience was beyond words.
How to reach Schilthorn from Interlaken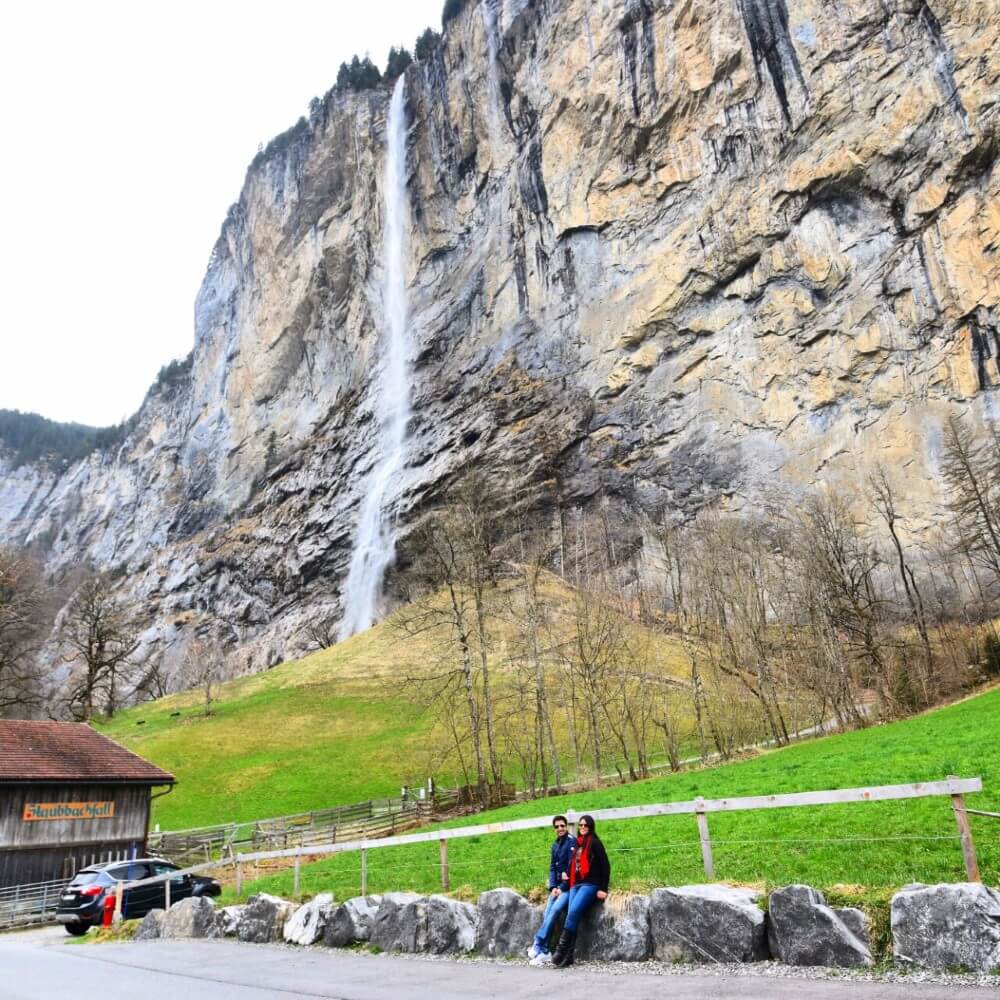 There are 2 ways to reach Schilthorn from Interlaken.
Interlaken – Lauterbrunnen – Stechelberg – Mürren – Schilthorn, OR
Interlaken – Lauterbrunnen – Grütschalp – Mürren – Schilthorn
We suggest go up via Stechelberg route and go down via Grütschalp. That way you can cover more spectacular sceneries. The journey from Interlaken to Schilthorn takes about 90 minutes depending on the route.
Route 1 (first section): Interlaken – Lauterbrunnen – Stechelberg
Board the train from Interlaken Ost Station to Lauterbrunnen (we recommend you to sit on the right of the train to have slightly better view of the way). From Lauterbrunnen take bus to 'Stechelberg Schilthornbahn' (this 20 minute bus ride is full of most amazing views). Then board your first cable car from here and switch to another in Gimmelwald that will take you to Mürren.
NOTE: You can also ride car to Lauterbrunnen and then to Stechelberg
Route 2 (first section): Interlaken – Lauterbrunnen – Grütschalp
Board the train from Interlaken Ost Station to Lauterbrunnen. In Lauterbrunnen take the cable car to Grütschalp. From there get into the narrow gauge train to Mürren.
You can see the prices here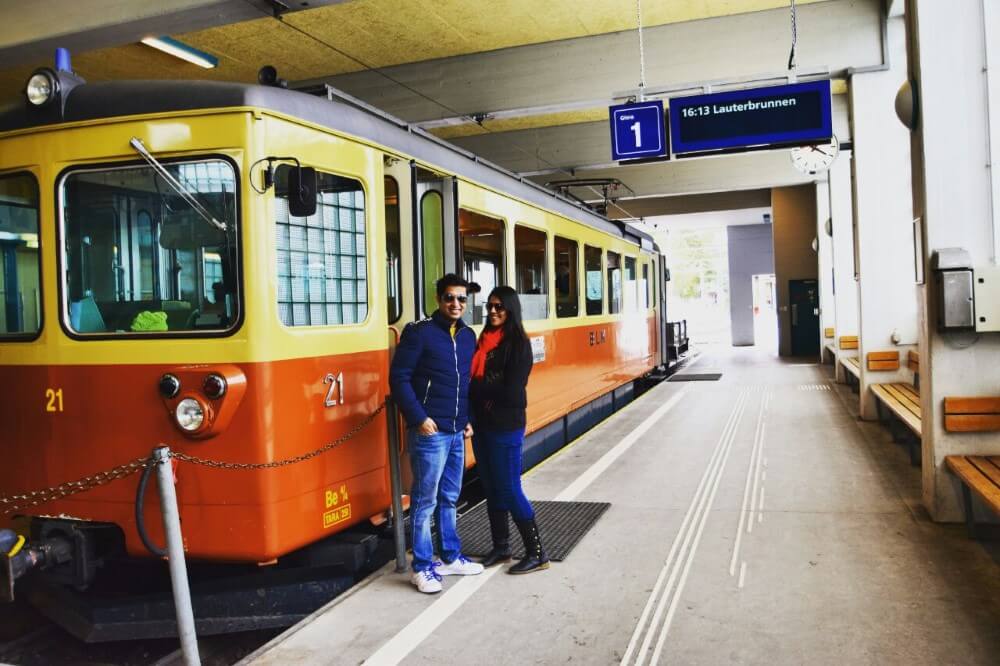 Second Section of the journey (for both the routes): Starts from Mürren
This is the final leg of the trip. Board cable car from Mürren and switch to another in Birg. Cable car from Birg will take you to summit of the Schilthorn.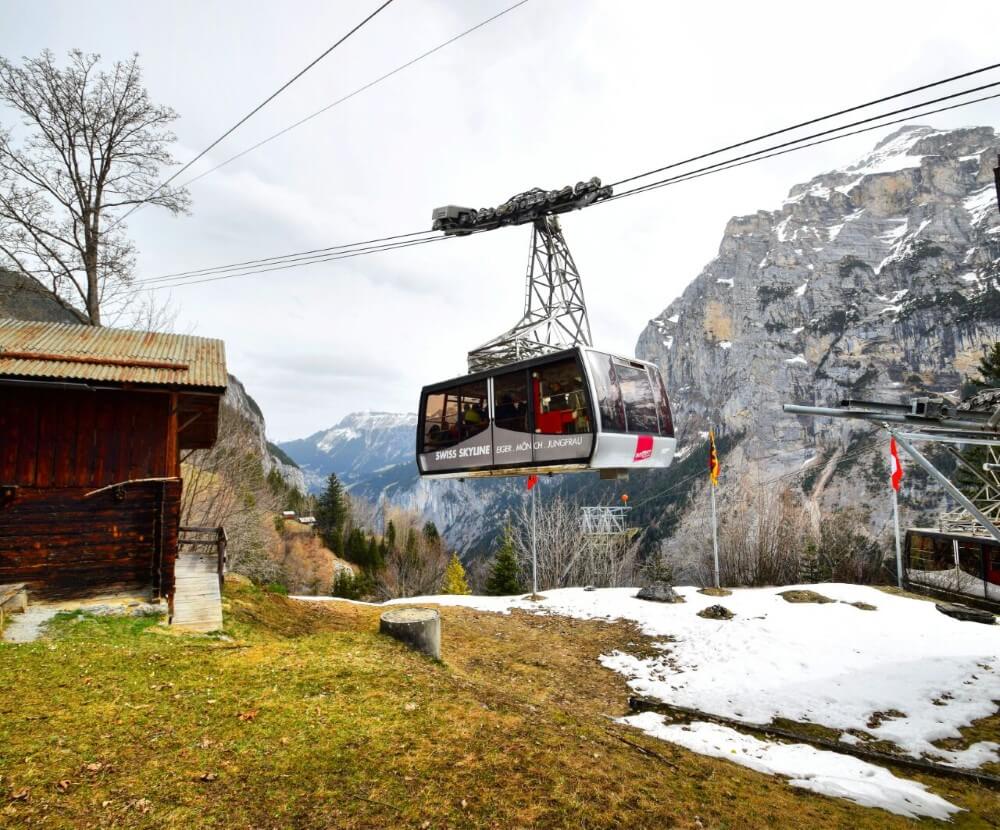 NOTE: The journey getting up to the Schilthorn is half of the fun and you will witness one of the most amazing views.
How to plan your summit excursion to Schilthorn:
Weather plays the major factor in determining your schedule in the mountains. It is better to stay few days in Interlaken as your base, it increase the chance of getting the perfect shiny weather for your summit. Fortunately you have many options to check whether reports before planning your mountain's expedition. There is a live feed coming straight from at Schilthorn where you can check for the best weather.
Note:If it is a cloudy day, you can plan a side trip for the city Burn.
What you can expect at Schilthorn:
When you are at the top of Schilthorn, you will embrace the best scenery of all time. While standing in the heart of Swiss-Alps, you will witness the glorious jagged peaks of mountains covered in snow.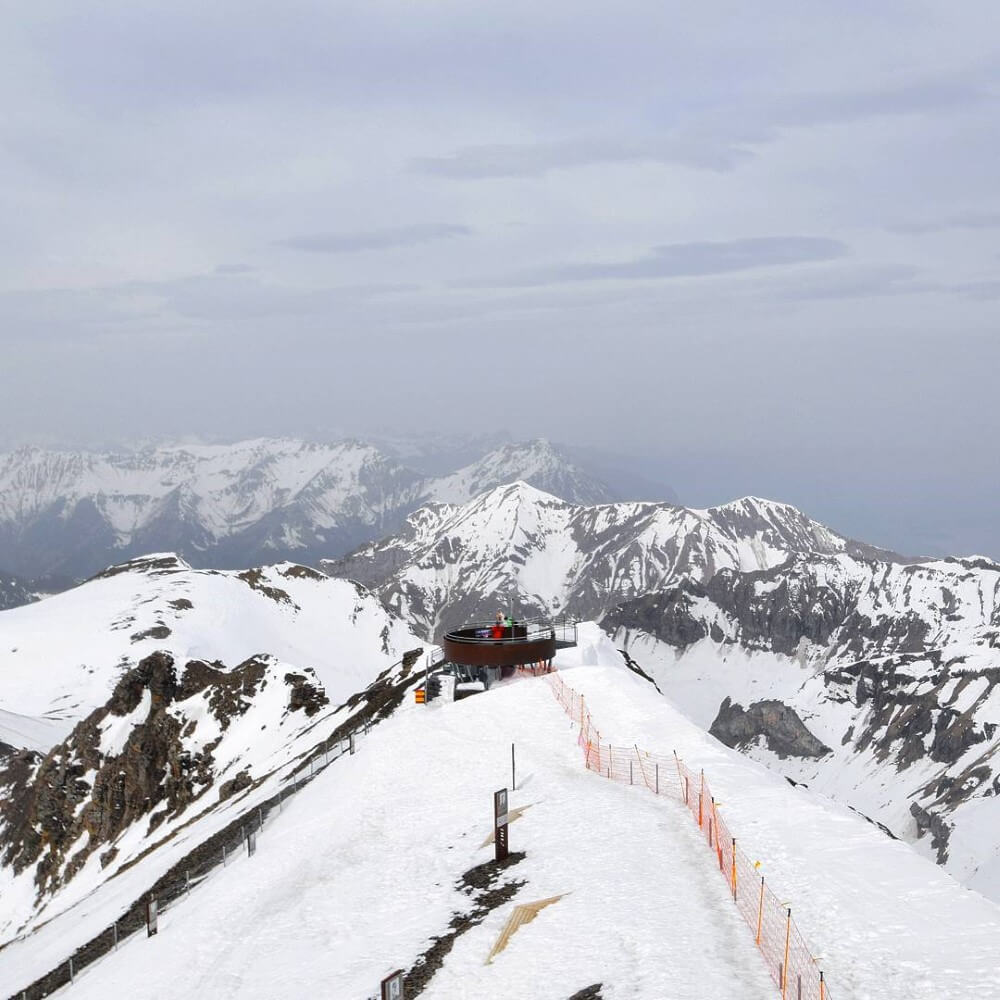 You will hat's off to Swiss Engineers who made a 360- degree rotating restaurant with all superb facilities. From where you can enjoy your lunch while soaking in the amazing view of Alps. The restaurant is known as Piz Gloria. It completes one rotation in an hour providing the best panorama view.
For more excellent view there is an open outdoor terrace from where you can look around the world famous mountain peaks.
PS: We were lucky, because the bright sunny weather supported our excursion. We had all the clear views of dramatic peaks and valleys.
For more clear and near view you can check-out mountains from binoculars, which are available at the terrace.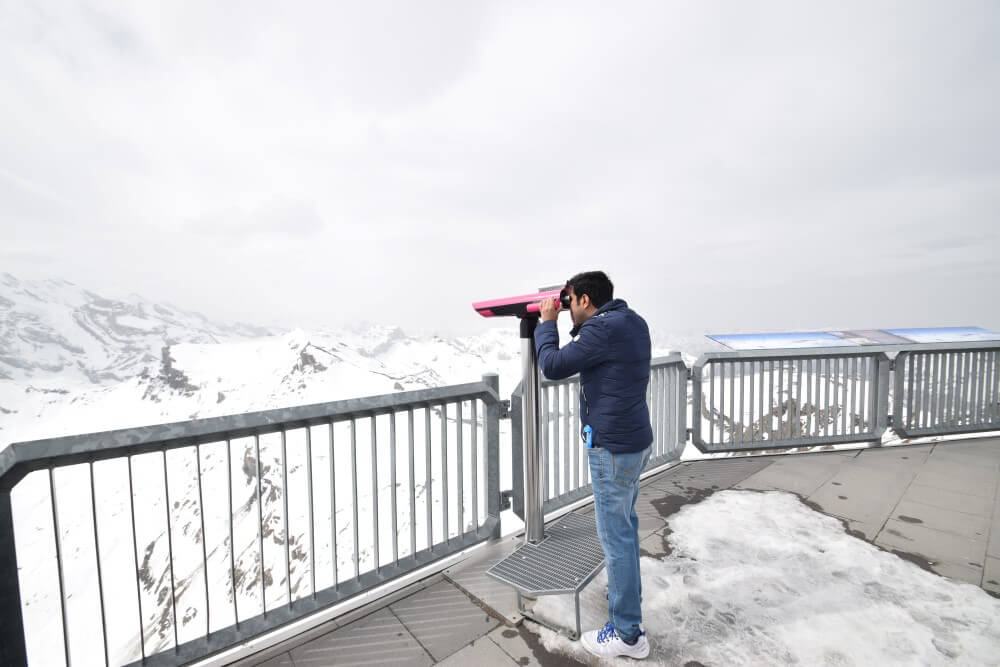 Last but not least you can click pictures with James bond ;). Imagine watching James Bond in the frantic chase scene from the epic movie "On Her Majesty's Secret service".
This daytrip to Schilthorn gave us more than what we were expecting. Thanks to the lovely weather which made it extravagant!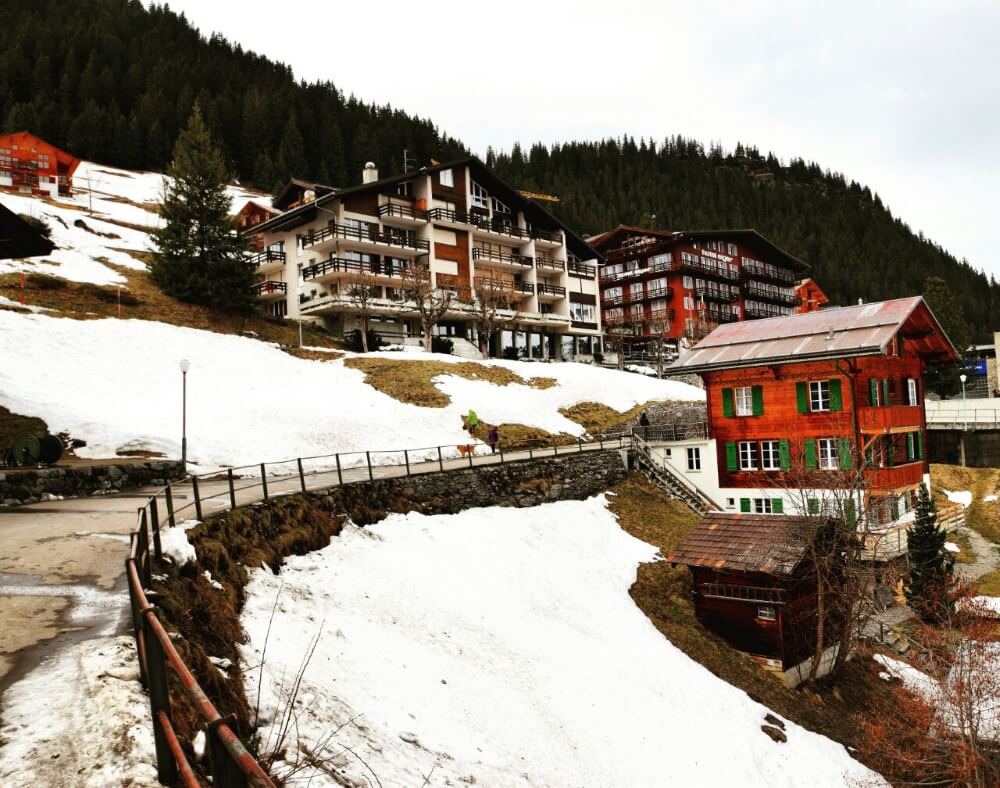 Hope you will like our travel guide to Schilthorn, Switzerland in Jungfrau region. We loved our experience being there.
Plan your next trip to this magnificent place for the unforgettable view from Schilthorn, Switzerland. But keep weather in mind. Check our other post of Switzerland on our blog.
For more travel pictures just follow us on Instagram