Venice is definitely one of the most beautiful city in the world. And when it comes to honeymoon than there is no other destination which is as romantic as Venice. Its one of the most desired tourist destination in the world with Thousands of tourist visiting everyday.
 How to Reach     Where to stay       Things to do      Food Options      Saving tips
How to Reach Venice
Venice is well connected to major cities in the world by air. If you are visiting from nearby European countries or from withing Italy you can use the efficient Rail Network. We traveled from Rome to Venezia via Train Italia
Train Cost from Rome to Venice


*Earlier you book the tickets better you get the price. Price vary from 54 Euro per couple to 125 Euro per couple.
From Venezia Santa Lucia Train Station to Venice City
Venice has two major stations namely Venezia Mestre station and Venezia Santa Lucia.
Santa Lucia is the main station for the historic city so make sure you book until this. There are two options to reach city from train station, one by foot and other by water taxi and choosing them is totally depend on the area where you book your hotel. We did a lot of research for the hotel and book it near train station so that it can reached via foot. We had to cross two bridges with our bags to reach our hotel. If you choose to book your hotel nearby make sure you check the number of bridges you need to cross. This will definitely reduce a lot of stress for you.
Water Taxi or vaporetto from Santa Lucia costs around 80 Euro up to 10 people and 10 suitcases and it costs more if you are coming from Mestre station
Where to Stay in Venice
Choice of neighborhood to stay is very important in Venice. If you want to save money stay in neighborhoods around Santa Lucia Station. We chose the nearby Santa Croce area due to its proximity with train station. Cannaregio is another nearby neighborhood.
We stayed in Best Western Hotel Olimpia in Santa Croce area. We needed to cross two bridges to reach the Hotel. It is a heritage property. Rooms are big and spacious. It also have a small garden inside its premises. Breakfast option in the hotel has a huge variety. Morning buffet is very delicious.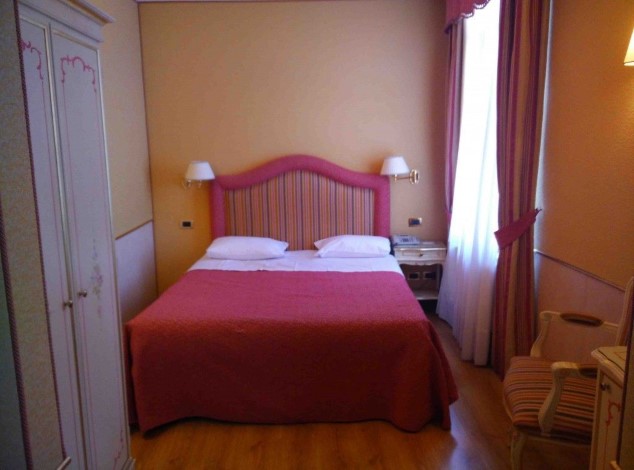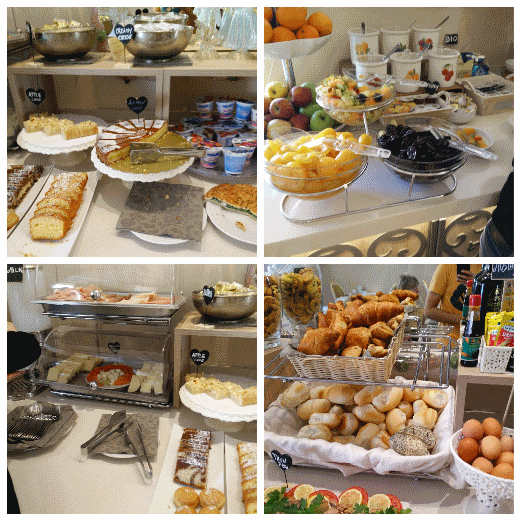 Cost of Accommodation per night



*Prices vary according to seasons.
Top Things to do in Venice
Venice is a beautiful city. One can cover the whole city on foot. Venice is so charming that you will love to be lost in the city. Every street in Venice is an attraction in itself. Its full of Love and Romance. Here are the top places to visit in Venice.
Bridges in Venice, especially Rialto Bridge
Venezia looks very beautiful from Rialto Bridge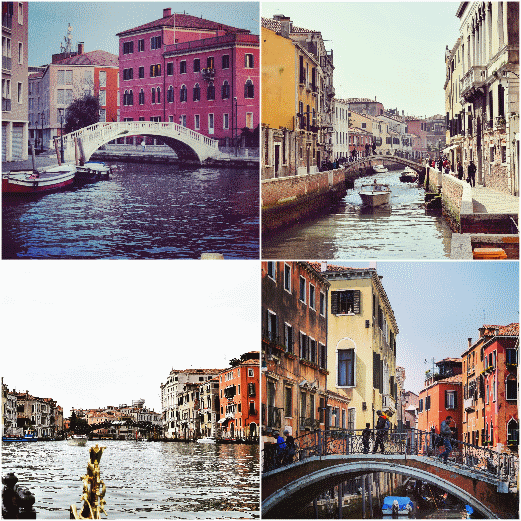 Saint Mark's Basilica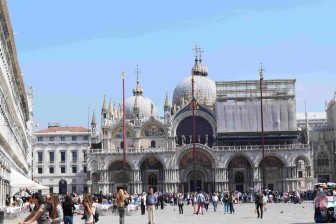 Gondolas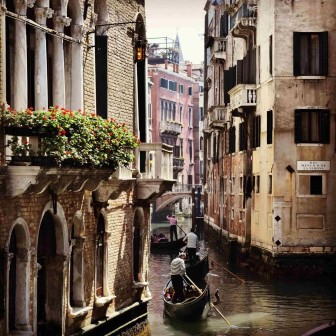 Other places includes Theatre La Fenice & Islands of Murano and Lido
Food Options : Value for Money
The City has some amazing restaurants, if you want to enjoy the view head to grand canal for some expensive meal. Here are few value for money restaurants we visited which are worth mentioning
Dal Moro's – Fresh Pasta To Go
Calle de la Casseleria, 5324 | Castello, 30122 Venezia
Most delicious pasta you will ever taste
Pizza 2000
Campo Sant'Agostin – San Polo, 2287, 30125 Venezia
L'Allegro Pomociccio
Sestiere Santa Croce 599/D | Campo de la Lana, 30135 Venice
One of the best pizza's in Venice and light on pocket
San Stae – Fontego delle Dolcezze
Santa Croce 1910 | San Stae Street, 30135 Venezia
For desserts this is the place to go.
Savings and Important Tips
Venice has some amazing small restaurants to eat out. You can save money and can also enjoy great food in them.
Choose your area to stay wisely. You can save a lot if you stay in Santa Croce and Cannaregio area. Also staying nearby will help you save on transfer cost from Santa Lucia
You can easily cover the whole city on foot. So better walk and cover this beautiful city.
Gondola ride is cheaper before 7 pm. You can save 20 € if you take ride before 7 pm.
Avoid eating near major attractions as it will cost more.
Total Cost Per day for couple
Cost without flight/train : Approx 140 Euro